The Evolving Definition of the Bakery
A bakery is a business that produces and sells baked goods. In the past, the term may have been applied to a place where fresh bread or cakes were made in an oven or by hand.
Today, it usually means a commercial establishment that specialises in sweet baked goods such as biscuits, croissants, danishes, muffins and pies.
With so many types of bakeries to choose from, it's best to know what you're looking for so you can have an easier time making a choice.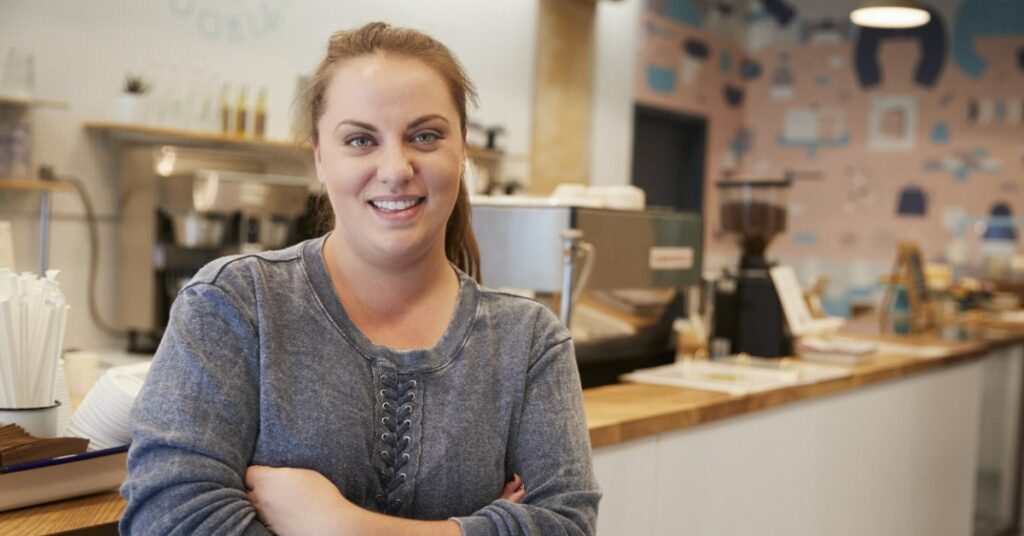 Large Bread Box for Kitchen Benchtop – Wooden large capacity bread storage. Double compartment bread bin is large enough to hold more than 3 loaves of bread, plus rolls, muffins and more.
The three most important factors in deciding which bakery you should go with are the following. The type of bakery, the location of the bakery and how busy it is.
There are various types of foods sold at a bakery. These include loaves of bread, pastries, cakes and biscuits. Bakery products can also include sweet or savoury pies, tarts and quiches.
Bread is typically made from flour-based doughs that are either leavened with yeast or quick-leavened with baking powder or baking soda to produce the desired texture and shape.
Bakeries In Fortitude Valley
Fortitude Valley has some of the best bakeries in Brisbane. Customers crave an array of pastries, cakes, pies as well as sandwiches, wraps and salads.
They also quite often offer catering services for those who want to enjoy their morning coffee or afternoon tea with a sweet treat at home or work.
Cheung's Cakes & Cafe
This is a small family-owned bakery located in the McWhirters building on Wickham Street. Besides being extremely friendly, the owners make wonderful cakes and coffee at a very reasonable price.
There are many desserts available, such as fresh mango cake, Chinese buns with sticky rice filling, sacher torte and chocolate mousse cake. All in all, a modest range of delicious treats.
It's a great place to go when you can't stomach the cakes and sweets at the supermarket! View their website to have a look at some of the product range.
Visit the Cheung's Cakes & Cafe website to have a look at the product range.
Central Brunswick Bakery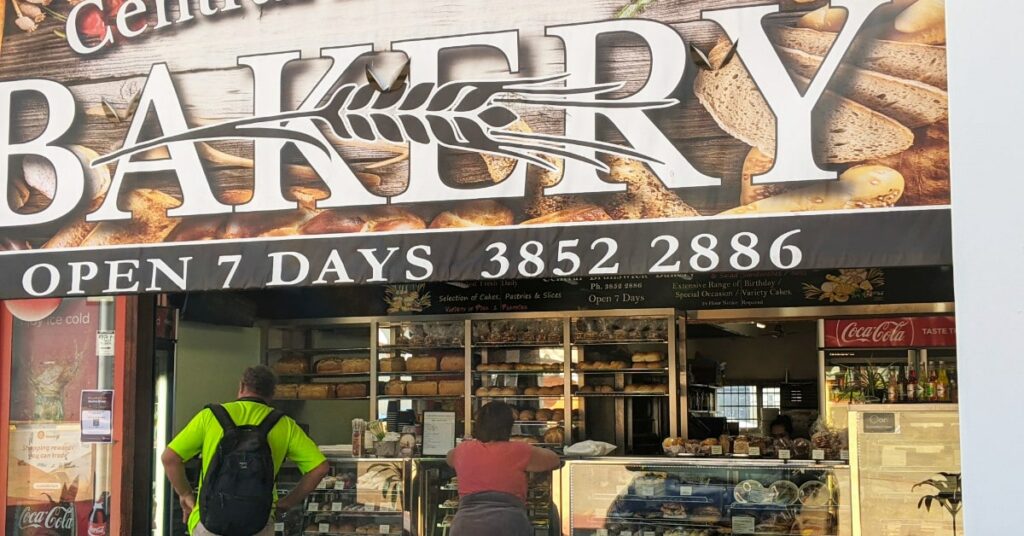 There are plenty of options here. These include pies, sausage rolls, spring rolls, sandwiches, chicken vermicelli bowls, Vietnamese pork rolls (Banh Mi) and more.
This bakery always has excellent food, so you will keep coming back for more. Prices are very affordable as well.
A great place to grab a quick meal at lunch or if you need something on the way home. The store is situated just off Brunswick Street in the Central Brunswick building, 25 Martin St, Fortitude Valley.
Sunbeam BM0550 Bread Slicing Guide – Ideal for cutting homemade bread from bread machines as well as your favourite bread bought from the bakery.
Jocelyn's Provisions
Joycelyn's have a reputation for quality cake, bread, pastries, and various delicious products.
Baked fresh using the finest ingredients and traditional recipes, their hand-made products proudly retain that old-world charm.
Jocelyn's Provisions has established a nationwide reputation for our artisan cakes, bread, pastries and provisions.
Their hand-made products, made using the finest ingredients and traditional recipes. The bakery makes all of its packaged items including biscuits, chocolates, nougat, panforte, and preserves in-store by their top pastry chefs.
Using only quality grains, the head baker creates our sourdough, baguettes, ciabatta, and seeded loaves, as well as a delightful selection of buttery pastries.
For a quality bakery experience, visit the Fortitude Valley store at 46 James Street.
Cakes & Shit
This innovative team make cakes, cupcakes, or biscuits for special events, or whatever the occasion may be.
Use the custom builder on the website to order your masterpiece. Or visit the Fortitude Valley store in Bakery Lane for a sample of the produce. Shop 3/694 Ann St.
French Kiss Pastry
French Kiss Pastry delivers French patisserie products to your door, including fine Caviar, gourmet cheeses, and freshly baked desserts.
Their freshly baked goods are made with authentic ingredients by their pastry chef daily, and rival the quality of those at most fine dining establishments in Brisbane.
Some of the choice desserts on offer
Caramello Salt Tart
Sweet Tang Lemon Pie
Chocolate Bliss Cake
As the cheese uses an ultra-filtration technique only found in France, these cheeses all have a mild, buttery flavour, making them creamier than triple-brie. Several cheese platters are available in French, perfect for a wine and cheese night at home or a late-night snack.
View their website to place an order or directly inside New York Slice Shop in the McWhirters building on Wickham St.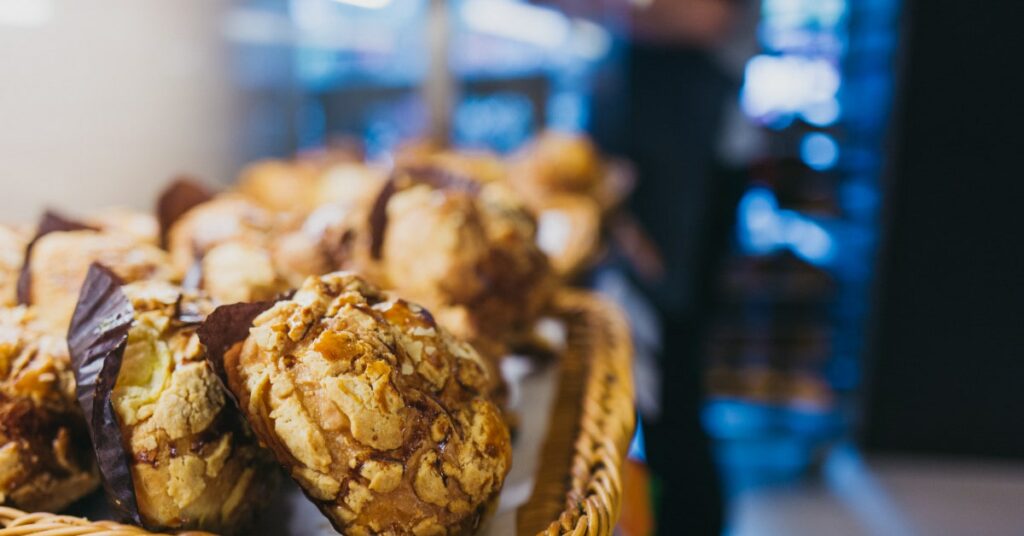 James St Bakery
Located 22 James Street inside the James Street Markets. The James St Bakery has handcrafted sourdough and patisserie items that are made from all-natural ingredients.
The original handcrafted bread, along with a wide selection of pastries, cakes and slices are all made with fresh, natural ingredients. All lovingly infused with the James Street Bakery flavour.
The company's focus is on providing the highest quality ingredients and then treating those ingredients with the highest level of respect. Making every loaf of sourdough bread and every piece of patisserie with exceptional attention to detail at every step of the production process.
Agnes Bakery
Make your way to the sunny corner of James Street and Harcourt Street. Here you will find a little surprise. A charming bakery called Agnes Bakery, which occupies a heritage-listed cottage.
As they have begun exploring more, they are examining how the use of fire can add to the complexity of flavours in sweet and savoury sourdough and pastries, as well as ancient and sustainably grown grains.
They serve coffee from a local roaster, the perfect partner for the mid-morning pastry.
---
Looking for a place to have lunch in the Valley? See the Lunch Fortitude Valley – Where to Go page
---
Good Luck Choosing a Bakery In Fortitude Valley
I'm sure you will find what you are after at one of the many bakeries located in Fortitude Valley. Your favourite place to purchase loaves of bread, cakes, pies, and many other baked goods.
Delight and choose from the extensive product range. Bear in mind, some bakeries will carry only one type of baked good, while some will offer a wide variety of baked goods.
Enjoy!