Since Fortitude Valley is a sizable area, finding the right barbershop for your haircut could be difficult if you don't know where to start. Opting for DIY methods of hair care, on the flip side, is probably not recommended. You need someone with the skills and expertise to give you exactly what you need.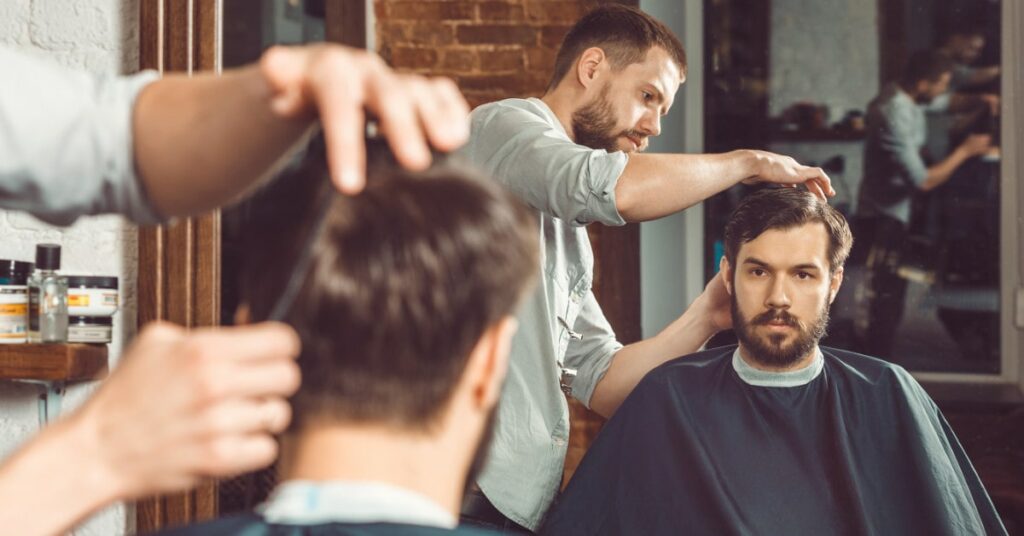 Working with a good barber is probably one of the best investments that you can make. In addition, you will have a better quality product compared to merely relying on Youtube tutorials and online guides.
Maintain your appearance with these mens grooming kits. Stay ontop of things between trips to the barber.
To ensure that you will come across the best barbershop possible, we have provided a list below of some Fortitude Valley Barbers that you can check out.
Benefits of Having a Barber Cut Your Hair
Home haircuts are probably a trend these days. Granted, you do not have to pay for anything, nor will you need to take a drive to the barbershop. However, you may face more risks in this method than simply asking a barber to cut your hair.
Here are some more benefits of going to a barbershop:
You will have more haircut choices.
You will get access to the exclusive expertise of barbers and their teams.
The whole haircut process will be easier and shorter in terms of waiting time.
Keep in mind that you can only get these benefits if you work with a good barber. Meaning, you need to invest time and effort in knowing whether a barber will fit your needs or not before going to the shop itself.
Twin Palms Barbershop
Twin Palms Barbershop is currently one of the leading barbershops in Brisbane. You can expect their team to be capable of both traditional and modern haircuts.
The barbers at Twin Palms offer grooming services for men. This includes wash, facial and hair care, towel refreshments, and the like. This is aside from the more basic services like haircut and shave.
What makes this barbershop unique is its prioritization of customer service. They have top-notch offers, which even come with complimentary beer or whiskey from Green Beacon Brewing Co.
Prices range from $35 to $75 depending on the service that you choose. They accept both walk-ins and online bookings for every day of the week.
Twin Palms Barbershop address is 60 James Street, Fortitude Valley. Visit the website for more details.
The Public Barber – A Popular Fortitude Valley Barber
The Public Barber is a classic and traditional barbershop offering comfortable and welcoming services. You can find them at 354 Brunswick Street, Fortitude Valley.
You can expect more of a vintage feel by making use of their services. The team mostly takes pride in their master barber, Jay, who has approximately 20 years of experience in the field.
The barbershop offers services for men, women, and children. For an overview, these include cut, a shave, beard trims, clipper cut and colour. These will range from $15 to $75, again, depending on what you need.
For bookings, you can visit their site or contact their phone number. They are open from Monday to Saturday.
NIVEA MEN Sensitive Shaving Cream – Alcohol-free shaving gel does not burn the skin. Buy online and save.
RYAN.CO Barbershop
The third on our list is RYAN.CO Barbershop. Their location is at 850 Ann Street, Fortitude Valley. They lean more on modern styles, which is reflected on their site and physical barbershop. The team has a collective experience of more than 10 years.
Some of the barbershop's services include restyles, buzz cut, scissor cut, beard trim, facial care, and colour. The costs start at $35 up to $85.
The team accepts online bookings on their site. Note that RYAN.CO Barbershop has strict cancellation policies, so make sure that you can attend your booked appointment. They also have specific COVID-safe rules so that you can guarantee a sanitized area.
Dreamboat
You can find Dreamboat at 5c Winn Lane, Winn Street, Fortitude Valley. This barbershop promotes inclusivity, which ensures a healthy environment.
Dreamboat offers a wide variety of services, including haircut, a shave, overall hair care, beard shaping, and colour. Haircuts and shaves can range from $45 to $85. Colour-related services, on the flip side, are charged per hour starting at $120.
You are required to set an appointment through online booking for the barbershop. You can also contact them through their Facebook and Instagram. The shop is closed every Sunday.
RTM Blades Barbershop
RTM Blades Barbershop combines traditional and modern barber services. Their address points to 115 Wickham Street, Fortitude Valley. Although newly-founded in 2020, you can expect the team to have vast expertise in the field.
This barbershop's services include cut, shave, beard trim and colour. They also offer scalp massage. For the price, it stretches from $15 to $50.
To book, the shop accepts online appointments. You can also reach out to them through their phone number and email. Note that they are closed on Sundays.
Bou's For Men Valley Metro Barber Shop
Bou's For Men Valley Metro Barber Shop offers grooming services exclusively for men's needs. They have several spots in Brisbane and England, which means their skills are not limited to just one state. They also have a good reputation as an outstanding stylist for men.
The barbershop offers basic services like haircut, shave, and face care. However, they also have distinct services, such as a full-on package for an overall style revamp. They also have specific styles for occasions like weddings.
The prices are not explicitly stated on their website except for the $150 per hour on wedding needs. Hence, you may want to contact them first before availing of an online booking or walk-in appointment.
The Emporium Barber
The Emporium Barber is aware of how limited services are for men's needs. This is what they took into account in their approach. They are located at King Street, Fortitude Valley.
Apart from regular services like haircut and shave, the shop also offers mens fragrances, skincare, beard care, face care, body care, and overall hair needs. You can expect a wide range of services and products from them.
The team accepts online bookings, so refer to their site for appointments. You can also directly visit their physical shop in Fortitude Valley.
MANSCAPED™ Nuts and Bolts 3.0 – Men's grooming kit. Specially designed electric trimmer, for hard-to-reach parts.
Summary
Having a barbershop do your haircut is the best solution if you want to enhance your looks. Unlike doing it yourself, you won't have to risk getting an epic fail haircut. Of course, this is as long as you go to a reputable barbershop.
For reference, the list above on the most notable Fortitude Valley Barber can help you choose the best barbershop to visit.
Note that each barber has unique specialties, so it's essential to take note of that. In addition, you should also consider factors like the price, offered services, and existing reviews. Doing so will help make the best choice possible for your needs.