What is a Car Detail?
A car detail is a service provided by a car wash or by a professional detailer. Car washes are cheaper and more common, but the service is limited to the vehicle's exterior. Professional detailers offer interior cleaning as well as more extensive exterior services.
A car detail can be generalised as a car wash, but it's not always necessary to wash your vehicle before it is detailed. Some people prefer to have their vehicle detailed before being washed because it's easier for them to see any dirt or stains on their car that need to be addressed before they are cleaned off.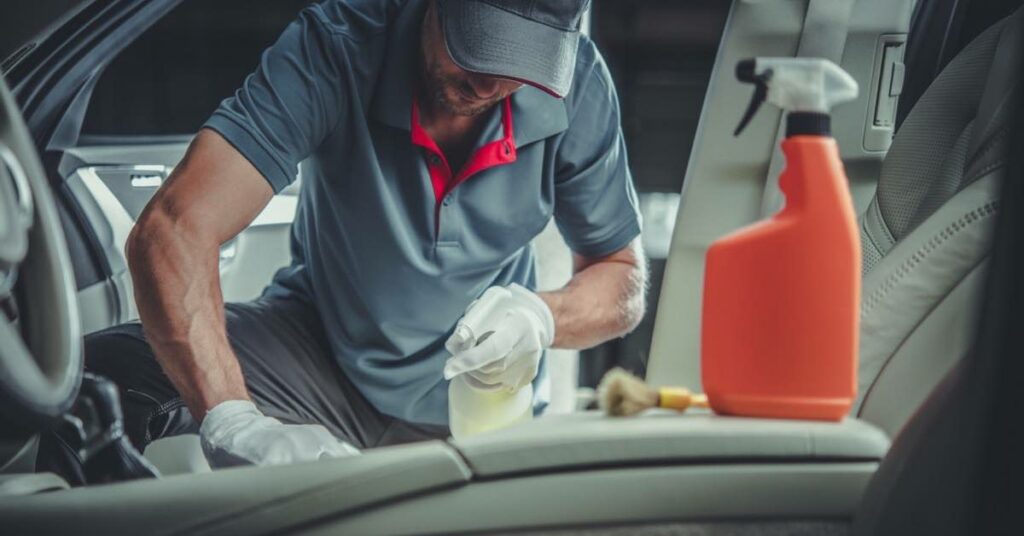 Detailing a vehicle is to make it look its best and extend the paint job's life while keeping it looking shiny and new.
Why You Need a Quality Car Detailing Service in Brisbane
You might be wondering why car detailing is essential. Well, it's important because you want your car to look its best. This will not only make your car look better but will also increase the value of your vehicle. The more you take care of your vehicle, the more valuable it becomes.
People have become obsessed with the appearance of their vehicles and are willing to spend a lot of money on them. If you want their vehicle to shine, you will need a quality detailing service to achieve that goal.
Types of Car Detailing Services Available – Which One is Right for You?
Car detailing is a service that helps keep your car looking its best. It can also be a great way to get a vehicle ready for sale or trade-in. Car detailing can also be an excellent way to make your vehicle last longer.
There are many different car detailing services available, and it can be challenging to know which one is right for you. There are full detailers, express detailers, and more! The service cost will vary depending on the type of service you choose and where you go to get it done.
Getting Your Ride Super Clean Safely & Professionally
This article is all about how to get your car professionally cleaned. We have provided you with a list of the best and most affordable professionals around Brisbane city that are qualified to do the job.
Personal Car Care
Personal Car Care detailing packages include interior detail, full detail, pre-sale detail, exterior detail, ceramic coating, etc.
Ceramic Coating Service
When you spend a lot of money on a car, keeping it scratch-free and maintaining its pristine appearance can be challenging. Its longevity is significantly reduced by rough roads and Australia's harsh climate.
Tough Coatings is a transparent seal that increases the toughness and strength of the paint. This highest level of protection keeps the paintwork looking immaculate and makes maintenance a breeze.
Located 276 Barry Parade, Fortitude Valley or view more details on their website https://personalcarcare.com.au/
The Car Wash Company
The Car Wash Company is dedicated to the highest level of quality, specialising in car detailing. From sanitising to polishing, they aim to make you feel like you are driving a brand new car.
Stop by at 650 Wickham Street in the Valley (Homemaker North Building)
More details can be found on their website: https://thecarwashcompany.com.au/
VIP Car Care
Customers all over Australia can benefit from VIP Car Care's high-quality mobile detailing services.
Their experts detail your vehicle using their carefully researched and tested process at a much lower cost while maintaining high customer satisfaction.
To clean stubborn dirt and grime, they use products that are effective but gentle enough not to damage the paint. Visit the VIP Car Care website to see more details:
https://www.vipcarcare.com.au/car-detailing-service/
Bumble Bee Car Care
Known for its high-end detailing services, Bumble Bee Car Care provides paint protection for new and used cars. Located in Fortitude Valley, Brisbane, they are connected to Michael Anthony Luxury Cars, one of the most respected dealerships for classics, collectibles, luxury and sports cars.
Ask a team member about available packages and get answers to any questions you may have. Situated 47 McLachlan Street in the Valley or view the website: https://www.bumblebeecarcare.com.au/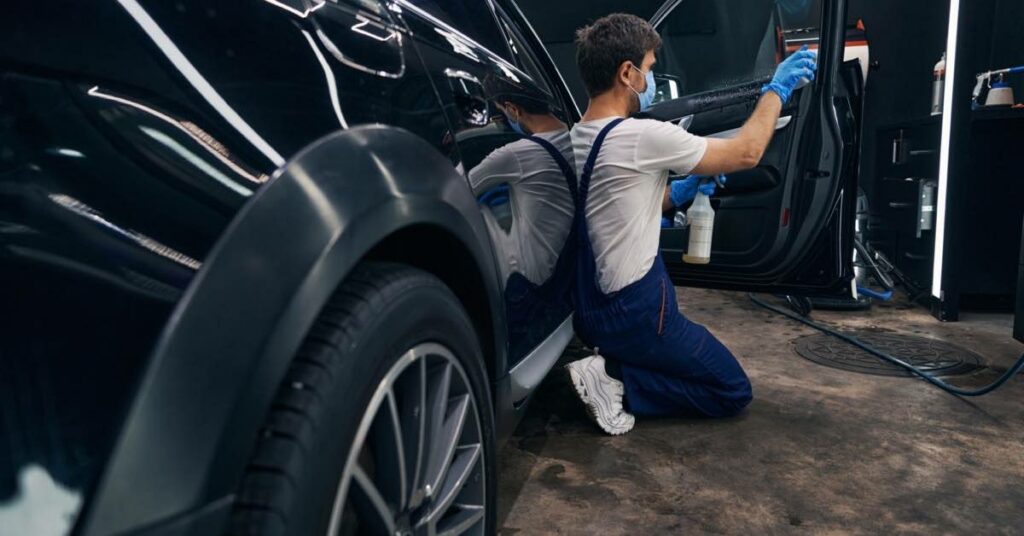 How Do You Detail a Car Professionally? What Supplies and Equipment Do You Need?
Detailing is a profession that requires a lot of supplies and equipment. Detailers need to know what supplies and equipment are needed for the job. There are a few things that are necessary to do detailing properly. They include car cleaning supplies, the best products & tools for car detailing, and other miscellaneous items.
The most common car cleaning supplies that detailers use are towels, microfiber cloths, clay bars, waxes, polishes, tire dressing, and cleaners.
Detailing professionals also need the best products and tools for car detailing. These tools include buffers, polishers with either wool or foam pads or both. This depends on what is being done or what is required.
Add to the above tools: steel wool, hand-held power washers, high-velocity air compressors, orbital sanders, and various buffers.
The most common car cleaning supplies that detailers use are towels, microfiber cloths, clay bars, waxes, polishes, tire dressing, and cleaners.
Detailing professionals also need the best products & tools for car detailing, such as buffers, polishers with either wool or foam pads or both, depending on what is needed to complete a job.
Expert Tips on How to Keep Your Automobile Shining Like New
The exterior of your car is an integral part of keeping its value. You can maintain the surface by washing, waxing, and cleaning your car regularly.
This section will show you how to keep your car shining like new with these expert tips.
If your car is getting older, you may want to consider a paint job. There are some great, expertly done options for vehicles of all ages. Cars that don't get much use can also benefit from something more special like a polish and wax job.
Use a bucket to wash the exterior of your car in the garage or driveway. Use a hose to clean the rest of your vehicle, but try not to use it on hard-to-reach places.
If you have a house with a garage, use the garage for bucket washing and hose washing. If you want to give your car an extra-special detailing job, find out what type of paint or finish it has and treat it accordingly.
Steps to Selecting the Best Auto Detailer & Company in Your Area
The best way to find a reputable auto detailer is to ask your friends, family members, and coworkers who they have used in the past.
If you don't have anyone you can ask, it might be good to look online for reviews of different companies in your area. If you are located in Brisbane, please view the companies listed above.
Many local auto detailers offer services such as exterior car cleaning, interior car cleaning, and vehicle detailing. You will want to select an auto detailer that provides the services you need and can provide quality service at a reasonable price.
Some of the things to look for when selecting an auto detailer are the company's reputation and service offerings. The standard auto detailers offer exterior, interior, and vehicle detailing services.
They also offer a range of packages and pricing options. The standard package usually cleans the exterior, interior, wheels, tires, windows/glass/windshield.
Importance of a Car Detail when Buying a Used Vehicle
A car detail can be a great way to ensure that you get the most out of your purchase. It will also help you to avoid any potential problems in the future.
It would help if you had your car detailed thoroughly to ensure it is clean and you are checking for any problems you might have overlooked. A good car detailer can also save you money by providing a warranty on their work and ensuring that your vehicle lasts as long as possible.
This is because they will be able to spot any damage or problems that will cause you to spend more money in the future. Another benefit of having your car detailed is that it can allow you to sell a vehicle at a better price.
When your car looks great, people are more likely to only offer you top dollar for it.
What You Need for the Best Car Detailing Experience
To detail your car at home, you need to get the right products, which are easy to find at any auto store. A good car detailing kit includes a bucket, a hose and a high-quality microfiber cloth.
For more information on what you need for car detailing, check out this article A Guide To Interior Car Detailing Like a Pro.
Some people may not be comfortable doing their own car detailing. However, fear not. At least you know you can call on a professional in your local area!
Needing some help on where to park in the Valley?
See the Parking in Fortitude Valley for some useful information.