For the health of your teeth, it is important to visit your dentist regularly and pay attention to all their recommendations. Not only will this help you avoid tooth problems like cavities, gum disease, tooth pain, and oral cancer, but it can also save you money on future treatments by finding these problems early.
According to research, visiting the dentist regularly can help prevent gum disease and tooth decay while preventing future oral health problems.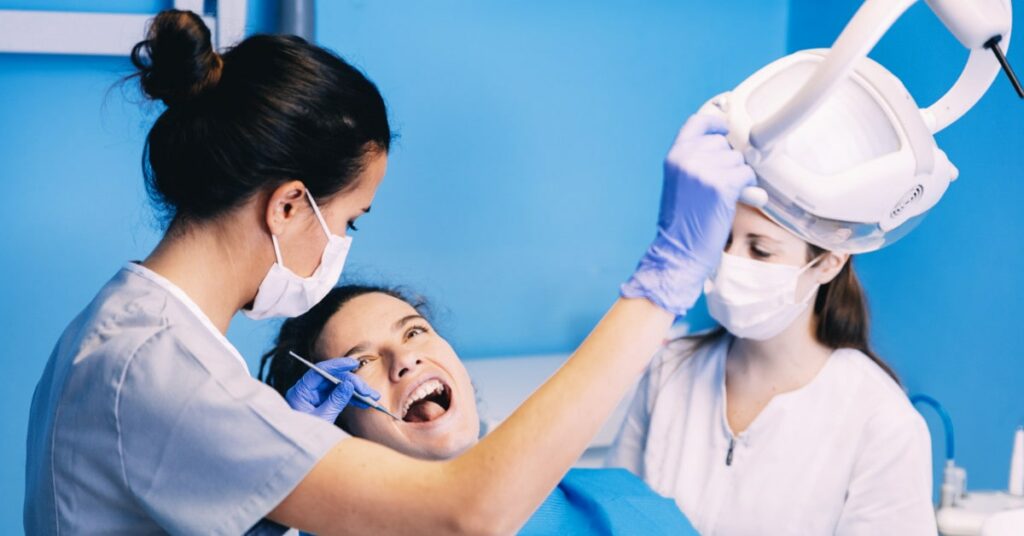 If you are not in the habit of getting regular dental checkups, your gums may be in worse shape than you can imagine. Your dentist can help you determine if your gums are healthy or something is wrong with them. In this article, we are going to discuss the best dentist in Fortitude Valley.
Central Brunswick Dental Centre
At Central Brunswick Dental Centre, their goal is to assist you to achieve that perfect smile for a friendly price. This dental clinic is located on Brunswick Street in Fortitude Valley and has wheelchair access available and ample parking.
Some of the services offered by this clinic include preventative care, family dentistry, general dentistry, tooth extraction, crowns & bridges and family dentistry.
If you require a general checkup or other dental work, you can make a book or consultation with Dr Jacky or Dr Lawrence today. They treat all gum diseases such as gingivitis utilizing modern solutions.
Visit the Central Brunswick Dental Centre website.
James Street Dentists
This clinic has a highly trained dental team and has more experience when it comes to dental problems. It is located at 151 Robertson Street Fortitude Valley and offers quality services at an affordable price.
In addition to taking care of teeth, the dentists at James Street Dentists provide treatment in all areas of dental care, from children's teeth to root canals and whitening.
If you suffer from neck and shoulder pain, jaw tightness, earache, headaches, or any other nagging and debilitating symptoms, James Street Dentists will offer you hope and help. Books for an appointment today if you want to maintain healthy gums and bright white teeth for years to come.
DentCo Dental
Located in the McWhirters Building, this dental facility has developed a reputation by offering exceptional service. They believe that your teeth are an important part of your wellbeing and health. They value your smile.
The facility offers a wide range of dental packages and services including restorative, preventative, and emergency treatments.
They are lucky to have three amazing dentists that bring a wealth of knowledge and skills. They include Dr Richard Streit, Dr Amarjot (Kiki) Devgun, and Dr Peter Dyer. Their goal is to make it as easy as possible for you to receive high-quality dental care.
Fortitude Valley Dentist
Fortitude Valley Dentist offers cutting-edge dentistry to patients across Fortitude Valley and the surrounding areas. Their team of highly skilled and experienced dental professionals provides comprehensive oral health care to suit your needs.
Besides that, you will enjoy comfortable, friendly, and conservative dentistry.
You will have access to leading dentists, Dr Michel Zabik and Dr John Flutter will provide you with all possible options. Above all, they will work only in your best interest. Located 117 Warry St.
Star Dental
Whether it is Cosmetic Dentistry, Orthopedic / Orthodont, General Dentistry, or Tooth Whitening, Star Dental will offer all kinds of dental treatment for you to have healthy teeth. If you are a young adult or teenager, you need to protect your teeth and mouth by maintaining good oral health.
This dental clinic is located at 29/25 James St. With regular visits to our office, you can keep your teeth looking great without suffering from painful or embarrassing ailments like bad breath or bleeding gums.
If you're looking for affordable and easy solutions to protecting your teeth and gums, consider Star Dental in Fortitude.
Chinatown Dental
Chinatown Dental provides convenient, affordable, and quality dental care to patients of all ages at their practice located in Chinatown. They offer root canals, tooth bleaching, tooth whitening, and more services.
With their competitive pricing and friendly staff, Chinatown Dental has become one of our most recommended clinics.
The facility is open from Monday to Saturday and their entire team is dedicated to providing you with excellent, personal service. If you wish to book an appointment, contact Dr Kendrick Chan by dialling 0433 168 202.
Artistic Dental Studio
Artistic Dental Studio will always put their patients first. Dr Shervin Mehdizadeh and his team are friendly and highly dedicated to offering the best services. They are qualified to provide for you the highest level of attention and care.
The services offered in this facility include bridges, veneers, emergency treatments, cosmetic treatments, dental checkups and cleaning, root canal therapy, tooth whitening, and more.
The practice is situated close to Brisbane's riverside outskirts of New Farm, 1a/9 Doggett St. It has a relaxed outdoor lifestyle and tree-lined streets. They are committed to providing patients with high-quality service, a comfortable environment, and affordable prices.
Precision Dental
Precision Dental Facility has always been dedicated to providing the best dental care in Fortitude Valley, and they take great pride in maintaining the highest standards of excellence when it comes to oral treatment and procedures.
The dedicated staff offers a wide range of dental services from exams and cleanings to advanced procedures such as teeth whitening and implants to help patients look their best.
This ultra-modern facility is located conveniently in HQ Tower 520 Wickham St. They provides onsite parking free for the duration of treatment. You can book them online or call them via telephone at (07) 3852 1160.
We Create Smiles
Situated at 15 Malt St Fortitude Valley Brisbane, We Create Smiles dental clinic is the leader when it comes to Cosmetic Dentistry and Dental Implants.
They have high-quality staff that provides the best services that exceed your expectations. Dr Greg Sclavos, with 29 years of experience, has extensive skills and knowledge, and he can undertake even the most complex of dental procedures.
Wrapping Up
For residents of Fortitude Valley, finding good dental care near you can be stressful. Whether you need routine checkups or you have an emergency repair, the dentists listed above are trusted dentists and will give you peace of mind.