Japanese food is one of the most popular types of cuisine in the world. Featured below is a comprehensive list of Japanese Restaurants in Fortitude Valley, Brisbane.
The origins of this type of cooking date back to when rice was first introduced to Japan. The dishes are commonly served in small portions. And often include raw fish, which for some of us, can't get enough of! Chopsticks are used in addition to spoons and forks when consuming all types of Japanese cuisine.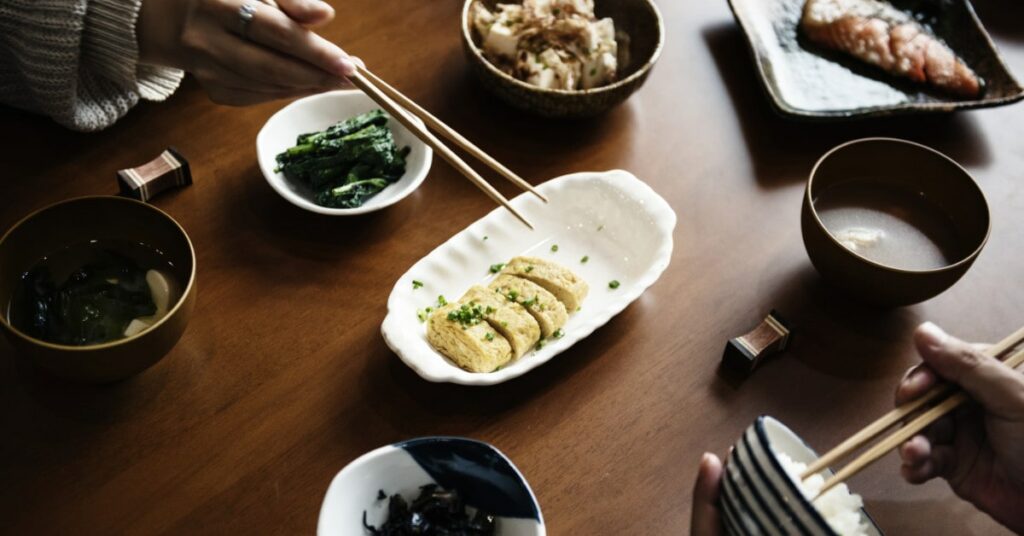 The primary styles of cooking in a Japanese restaurant are Teppanyaki and Kaiseki. Teppanyaki is where food is cooked on an iron griddle in front of the customer.
It typically consists of meat, seafood, vegetables and noodles. Also, it usually includes teriyaki sauce and soy sauce as condiments. Kaiseki dishes originated from ancient imperial cuisine and can be described as haute-cuisine dishes consisting of 10 to 20 small courses or side dishes served at room temperature or warm.
Japanese food can be divided into three main categories: sushi, raw fish, and cooked dishes.
Teppanyaki Cooking
Teppanyaki is a style of Japanese cuisine where food is cooked on a large iron griddle. The word teppanyaki derives from the Japanese words teppan meaning iron plate and yaki meaning grilled or fried.
Teppanyaki cooking is best known for the food being cooked in front of guests who sit around a teppan. Typically at tables with an electric burner in the centre.
Teppanyaki cooking is a Japanese style of cooking in which chefs prepare food at your table.
5 Dishes Popular in Brisbane Japanese Restaurants
The following list is a rundown of the five best dishes in Brisbane Japanese restaurants. This list is not in any particular order and includes a variety of different styles of food. It should be noted that this list does not include sushi or other raw fish dishes.
Japanese cuisine is one of the most popular cuisines in the world. Many people are not aware that many dishes are quintessential to Japanese cuisine.
The top 5 dishes at these Brisbane Japanese restaurants include
sushi
tempura
ramen
gyoza
and teriyaki.
These dishes are all very popular among Japanese people because they have deep cultural significance and have been well adopted by Australian food lovers.
Ramen Savoury Soup Dish Served With Noodles
Japanese ramen is a savoury soup dish served in a variety of Asian countries, including Japan. It is usually made with noodles and meat or seafood.
A popular type of ramen is Shoyu Ramen, which uses soy sauce as the soup base instead of dashi broth. It usually contains noodles, roasted pork belly or boiled chicken, bok choy or spinach, and green onions.
Other types of ramen dishes include Tsukemen which has cold noodles in a dipping sauce-based broth and Hakata Ramen which uses tonkotsu (pork bone) soup as the base.
Ramen noodles are a staple food in Japan. With countless variations in flavour, thickness, colour and pack cooking. It is considered one of the most popular dishes in Japan today.
It was initially considered an inexpensive fast food but has grown in popularity to be considered traditional Japanese cuisine. Ramen noodles are prepared in many different ways and served either as a soup or dry style.
Ramen dishes are served at many different levels of quality according to ingredients, time spent preparing them and skill of the chef. There are four categories which include: Chuka soba (Chinese-style), kae-dama (ordering extra noodles), ramen toppings and tsuke.
Japanese Sushi
Sushi is a Japanese dish that's made with rice and fish. It's one of the most popular dishes in Japan. Sushi is also popular in many other countries around the world.
The food has been described as
"a piece of raw fish laid over vinegared rice, and then sliced into bite-sized pieces before serving."
There are many different types of sushi dishes, with there being more than 50 variations of sushi on offer in Japan alone. Some of the most popular types include Nigiri, Maki, Edamame, Chirashi, and Oshizushi.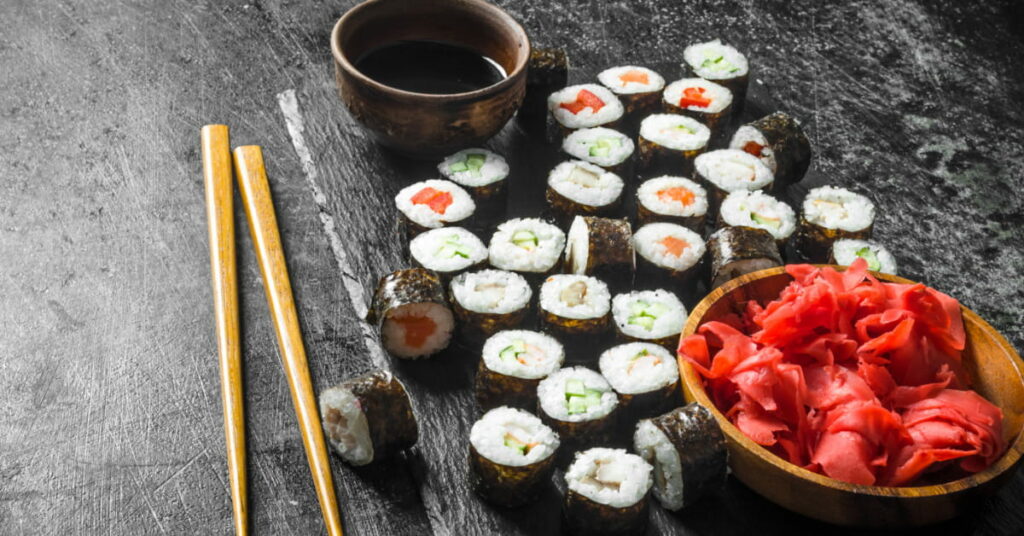 Sashimi
Japanese sashimi is a dish of thinly sliced raw fish and sometimes shellfish and vegetables. The most common types of fish for sashimi are tuna, salmon, octopus, squid, snapper, swordfish.
Sashimi is often served with soy sauce and wasabi paste. The fish is usually sliced into very thin pieces, so it is easy to eat with chopsticks.
Japanese Sashimi has the most famous raw fish dishes in Japan and can be found in many different types of restaurants. Typically served with soy sauce.
Sushi restaurants that specialize in sushi will also serve Japanese sashimi. It can be prepared with any type of seafood or meat, but it is most often prepared with raw fish. Sushi bars will typically offer a variety of sashimi dishes on their menu.
The dish is traditionally served on top of small mounds of sushi rice and garnished with slices of lemon for freshness and wasabi paste to accentuate the flavour.
Teriyaki Dishes
Teriyaki is a Japanese cooking technique that involves broiling or grilling meat or fish with a glaze made from soy sauce, sugar, and the juice of lemons or oranges. It's a sweet and savoury sauce that's used to coat meats or tofu and vegetables before being grilled, broiled, baked, or fried.
The teriyaki dishes are accompanied by rice and vegetables. This dish has been popular in the West because it is easy to prepare. To add, it can be customised with a variety of ingredients.
Sake Traditional Japanese Alcoholic Drink
Alcohol is often associated with Japanese culture. Sake is a form of alcohol that is brewed from rice for between 15 and 18 days.
The drink was first brewed in Japan when they discovered how to make beer out of rice. The drink was then used during rituals honouring their gods, especially the Shinto goddess Amaterasu.
The vast majority of sake sold in restaurants is chilled to 18-20 degrees Celsius (64-68 degrees Fahrenheit) and poured into small cups (Choko).
Japanese sake is a type of alcohol with a unique taste and flavour.
It has been consumed for centuries in Japan and the culture around it is rich.
Japanese Restaurants in Fortitude Valley
Japanese cuisine has been spreading around the world for years now. People have found it to be one of the most interesting cuisines. It's not just about sushi anymore! Many other dishes deserve recognition. For this reason, we have compiled a list of our favourite Japanese restaurants in Fortitude Valley, Brisbane that serve extraordinary food at affordable prices.
Wagaya Brisbane
This Izakaya style restaurant is located upstairs in Chinatown, Brisbane. The restaurant and bar are popular with everyone from couples to families.
It has an authentic Japanese style interior and makes an excellent place to visit. For more details visit the Wagaya Brisbane website.
Oyama Japanese Restaurant
Oyama Japanese Restaurant is situated in Fortitude Valley in Cathedral Village. For over 20 years, it has been offering premier sushi and teppanyaki dining experience in Brisbane.
Take a seat at Brisbane's most popular teppanyaki bars. You'll be able to find teppanyaki set menus for seafood lovers, meat lovers, vegetarians and vegans.
Reservations can be made by calling (07) 3257 0738 or visiting the Oyama Facebook page for more details.
Honto
Their menu incorporates contemporary nuance and local ingredients into Japanese cuisine. You can find their interpretations of classic Japanese dishes as well as some new favourites on the menu.
There is a very strong link between good food and good drink. So, in addition to standard wine, beer, and cocktails, there are a few rare and unusual Japanese whiskies and sakes in the mix as well.
With the Honto team's attentive service, you are sure to find the perfect match for your menu options. The environment is softly lit and great for stress-free social interaction with friends.
Located in Alden Street inconspicuously hidden behind the Wickham hotel. They are open Tuesday-Saturday, 5:30 PM till late. Also, see the Honto website for further details.
Nonbei Sake Bar & BBQ
Offering ramen, BBQ Yakiniku, izakaya this establishment is one of the more fun time Japanese restaurants in Fortitude Valley.
Located shop 4 on 624 Ann Street just off Chinatown.
Yoko Dining
Yoko Dining is a magnificent culinary experience on the Brisbane River. Yoko blends all the wonders of Japan with Brisbane's breezy lifestyle and provides dining, drinking and musical pleasure on two levels.
Yoko's seafood-oriented menu is influenced by the hibachi charcoal grill, the heart of the kitchen. Cocktails can be paired with a variety of bar snacks like seasonal gyoza, tempura, abundant noodles, or light salads and snacks.
Located at Howard Smith Wharves under Story Bridge. Also, see the Yoko Dining website for details.
Shushokuya Masa
Shushokuya Masa is an authentic Japanese restaurant that offers a variety of Japanese food and drinks.
This venue offers a wide range of dishes that are perfect for both vegetarians and meat lovers alike. The restaurant prides itself on its consistency, with each dish tasting just as good as the last one.
Their traditional trained chief, welcoming staff, and friendly atmosphere will make your stay at Shushokuya Masa a memorable experience.
Situated 1000 Ann Village in the Emporium.
Ginga Emporium Fortitude Valley
Ginga has excellent service paired with wonderful traditional Japanese food. Everything is presented well, tasty, fresh and delicious. Both the quantity and price are excellent.
Excellent customer service and attentive staff. If you have the chance to try this restaurant, you definitely should.
Located 1000 Ann Village in the Emporium. See the Ginga website for details.
Tatsu Ramen Gyoza Bar
Ramen, sashimi, gyoza, bao and more are available at this modest Chinatown restaurant. A wide variety of alcoholic beverages is available as well, including Japanese sake and fancy cocktails. Additionally, they offer vegetarian and vegan options.
Located in Fortitude Valley's Chinatown. Open till late, 7 days a week.
Bird's Nest Yakitori and Bar
Using fresh, high-quality local and international ingredients. Birds Nest Restaurant offers a menu bursting with flavour and vibrancy. Prepare for icy-cold Asahi and chicken tenderloin skewers cooked over charcoal with mayo and crunchy garlic.
In addition to their chefs producing some of the tastiest and most succulent meat dishes, they also prepare vegetarian and gluten-free dishes.
Their friendly and genuine service is dedicated to providing an authentic Japanese Yakitori experience.
Located 702 Ann St
Take Away Japanese in the Valley
Japanese take away food. Smaller dining experience.
Mr Curry Fortitude Valley
Great Japanese takeaway food. The staff are extremely friendly and welcoming.
Located in the Valley Metro food court right next to the Fortitude Valley Train Station.
Good Morning Sushi
Sushi that is both fresh and tasty. The staff provides friendly and efficient service. When you order, your order will be prepared fresh for you. It can be taken away or eaten in the food court.
Visit Good Morning Sushi in the Mcwhirters food court.
SO SUSHI
This Japanese has some of the best sushi in the Valley. It's well worth this wait even if you are in a hurry. The So Sushi taste will draw you back there again and again.
Visit 1000 Ann Village near Emporium.
Suki Japanese and Sushi
The karaage chicken curry is always delicious and the sushi is always fresh and tasty. Great authentic service with a friendly attitude.
Located 540 Wickham St near the Fortitude Valley IGA
A Truly Unmissable Japanese Dining Experience in Brisbane
As seen above there are a variety of Brisbane Japanese restaurants. Many famous among the locals for the quality of food.
Some you will find the menu is not limited to traditional Japanese cuisine but also offers fusion dishes which are less common in Brisbane. Commonly offering a wide range of dishes that are perfect for both vegetarians and meat lovers alike.
Japanese food is perfect for people who don't have time to cook at home or want to try something new! We intend to introduce the best local eats in Brisbane that are beyond sushi rolls, ramen noodles or bento boxes, but are still readily available at popular food destinations.