Fortitude Valley statistics and reputation generally indicate a young youthful vibrant suburb. Most of the population consists of the 20 and 30 something age groups. Although individuals in their 40s and beyond, who are young at heart, living in Fortitude Valley can be a great experience.
There is vibrancy and activity here in this inner-city suburb. Known for its pubs, clubs, bars and restaurants. The Valley draws a youthful element and can be an exciting place to live.
The Valley could be for anyone who likes the inner city environment and all the activity that goes with it.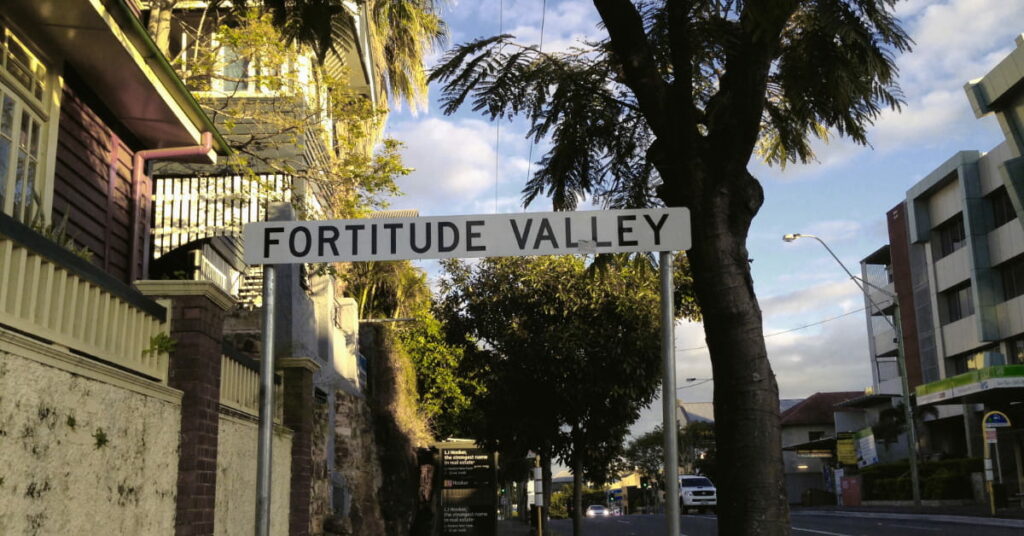 Quick Access To All Brisbane Innercity Suburbs
The Valley is the perfect location for accessing all things that happen in Brisbane City and other surrounding inner-city suburbs. These include South Bank, West End, Kangaroo Point and New Farm.
All Brisbane city locations and events are close and easy to access. You can get to most of these areas in and around Fortitude Valley within walking distance.
Without too much planning, you might like to go into town to do some shopping in the Queen Street Mall or even visit a theatre production in South Bank. Everything is there at your fingertips.
Not to mention annual Brisbane city events. A large crowd puller like Riverfire can be a real hassle to attend if you live out in the suburbs. Living in the Valley, you can conveniently stroll down to the Brisbane River to watch the fireworks.
Enjoy A Variety Of Food And Culture
In the Valley itself, you have access to some of the best restaurants from all parts of the world. These include Chinese, Vietnamese, Japanese and Korean in Chinatown. I should also mention Italian, Greek, Indian and American cuisines.
If you are planning on celebrating a special occasion, such as a birthday or wedding, Fortitude Valley is the first choice location to celebrate and party into the evening.
There are markets and craft shops in the various laneways to capture your attention. There are three lanes, namely Bakery, Wynn, and California lane.
A Place For Business, The Professional Side Of The Valley
Fortitude Valley also has a serious side, with many businesses being located around the Valley Heart. There are government offices, architectural firms, doctors, lawyers, insurance brokers, you name it, it's like a small version of the Brisbane central business district.
Living in Fortitude Valley makes sense for some people that work close by or own a local business. For a Brisbane city worker, the walk is only about 15 to 20 minutes. Jumping on an e-scooter or e-bike can halve that journey time!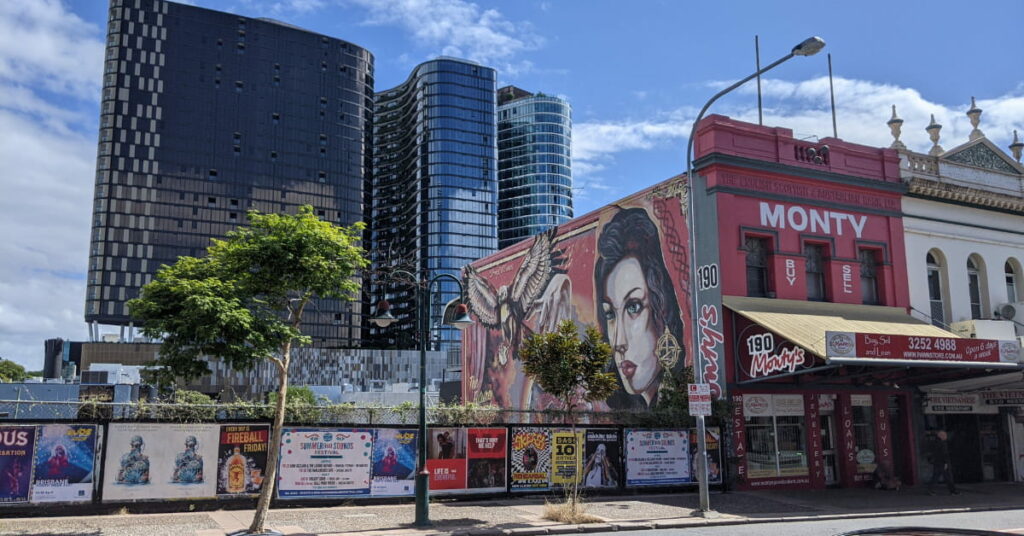 Transport Is Never Far Away – Most Places Are Within Walking Distance
Whether you need to get into Brisbane City or navigate around the Valley itself your transport options are excellent. There is the Fortitude Valley Train Station, buses going in and out of the city and even the Ferry not too far away.
Accessing the Brisbane Airport is stress-free with the Gold Coast to Brisbane Airport Airtrain stopping at Fortitude Valley Train Station regularly. Failing that, an Uber or Taxi is a realistic option.
The general mode of transport is public transport, or with everything so close walking is a great option.
As mentioned above, e-scooters or e-bikes are another great alternatives for getting around the city. Docking stations are spread out at regular intervals so there is always one close.
For a lot of people living in the Valley, there is no need to own a car.
Apartment Living Is The Norm – It Is The Innercity After All!
Fortitude Valley is high-density living, so living arrangements are generally made up of apartments. There are houses, but they are few and far between.
So, you need to ask the question. Are you a person that doesn't mind apartment living? I understand it may not be for everyone but for those of you that prefer this kind of lifestyle the Valley could be a good option.
Demographically Fortitude Valley is an ideal fit for young professionals. Both singles and couples.
From A Dark Past Emerges A Culturally Vibrant, Happening Place To Live
Fortitude, Valley has lifted its image over the years. It is now a more safe, desirable place to be compared to the 1980s to 1990s. Leaving behind its reputation of being dangerous and a place to avoid. This image has transformed slowly over the years.
The fears of the past cannot be said for today. Fortitude Valley for most Brisbane people usually means a place to have a great night out. For those that look a bit further, a cultural experience.
Do you need to be a partygoer to live in Fortitude Valley?
The get the most out of the Valley I don't think you need to be someone that goes out on the town all the time. Like any inner-city area, you need to be cautious. But it certainly isn't a place where you feel in danger.
Experience A Diverse Range Of Activities And Places
The laneways of Wynn Lane, California Lane and Bakery Lane.
And the multicultural vibrancy of Chinatown.
Dance into the night in the specially zoned entertainment district.
Take a stroll down James Street and explore the boutique shops.
Wonder about Brisbane in days gone by visiting historic buildings such as McWhirters and TCB.
Get caught up in the nighttime activity in the Valley on weekends.
My Personal Experience Living In Fortitude Valley
Despite what one might think of as the typical profile of someone living in Fortitude Valley, I am an early riser and early to go to bed. Yes, I am in the older age bracket but I experience the Valley in my way.
I enjoy going for walks along the river. A favourite is heading down to Riverwalk and walking along Howard Smith Wharves and across Story Bridge in the mornings.
My partner and I are more inclined to go to a restaurant during the daytime for lunch. However, it is nice going out at night time to have a meal on the odd occasion. It's never a late night out, so we are generally tucked up in bed when the younger ones start heading into the Valley for the clubs.
Sometimes I think about the old days when I previously lived in the suburbs where noise levels were a little quieter. Although overall, I prefer to be close to all the action! That's just me.