You may be thinking of relocating to Brisbane and checking out accommodation close to the city. There are several Fortitude Valley apartments worth checking out.
The area is full of vibrancy and never a dull moment. Perfect for the individual that requires excitement in their life. There is no shortage of great restaurants, pubs, clubs and novelty events to attend. A short distance away in the city.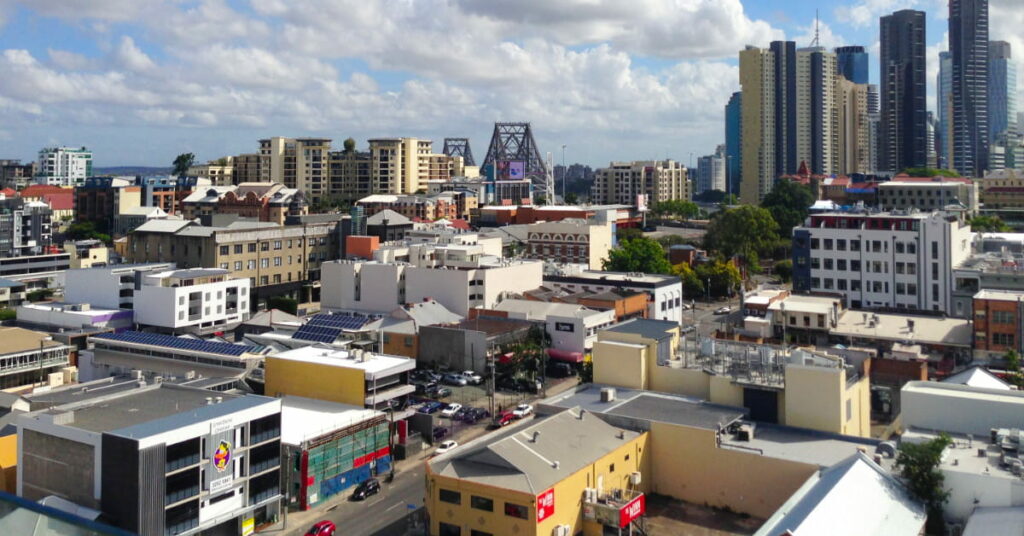 Listed below are some of the residential buildings that you will find around the Valley.
Cathedral Place Apartments – Gotha Street Precinct
Cathedral Place is a mid-rise apartment complex located on the Brisbane city end of Fortitude Valley. It stands adjacent to Centenary Place park on Gotha Street between Ann and Wickam streets.
This residential building was developed by Devine Limited and established in 1999. The apartment's name was inspired by Holy Name Cathedral. A cathedral intended to be built there in the 1920s but never materialized.
The interior resembles a hotel resort with a 25m lap pool, kids pool, man-made beach, BBQ areas, Gym and tropical gardens. An oasis in the middle of the city.
Baxter St Apartments
Located in one of Brisbane's most engaging inner-city locations, Fortitude Valley, the Baxter St Apartments are the latest boutique project from Forrester Properties.
Located on the corner of Baxter Street, St Paul's Terrace and Hadlow Lane, this architecturally designed mixed-use building spans 10 levels. Offering the city's ultimate urban lifestyle, it takes full advantage of the three-street frontage and emerging laneway culture.
These 56 sophisticated residences are just a stroll away from the character of Fortitude Valley and its connectivity. This property boasts new standards in modern building services, including retail businesses on its ground floor.
Visitor Baxter St Apartments the next time you are near St Paul's Terrace.
Oxford Towers – 338 Water St
With its 18 levels, this stunning tower at Central Village offers a Soho lifestyle at an affordable price.
As part of Oxford Towers are 160 residences, comprising two-storey Soho apartments, 45 two-bedroom apartments, 112 one-bedroom apartments, plus a 43 square meter ground floor retail area.
There are affordable rental apartments available under the National Rental Affordability Scheme (NRAS).
Located 338 Water St, Fortitude Valley
McWhirters Apartments Near Brunswick Street Mall
Its red-brick facade still presides over Brunswick Street Mall in the Valley, where the McWhirter building was added to the Queensland Heritage Register in 1992.
The upper floors of the building were converted into apartments, and the ground floor is home to restaurants, shops, and grocers.
McWhirters Apartments is located on Wickham Street near Brunswick Street Mall.
The Flatiron FV Peppers Residences
Located across the street from the Fortitude Valley Train Station, the FV Peppers Fortitude Valley is a striking flatiron style building.
You can also visit Chinatown, James Street, James Street Market, and Brunswick Street Mall. Several popular bars and restaurants are within walking distance of The FV by Peppers, such as Emporium, Elixir Bar, Cru Bar, and Kennigo Social House.
Explore the Valley. There are walking and bike paths along the river, a supermarket only 150 metres away, and the Fortitude Valley train station are only 130 metres from FV Peppers Residences.
Atrio Apartments Robertson St
Take advantage of the luxurious comfort of our Fortitude Valley Accommodation and make your vacation an unforgettable experience.
Accommodations at this resort are comfortable and located in a great location. You can spend time with your family and friends here.
A short distance from Brunswick St is 29 Robertson St.
The Coterie Apartments St Pauls Terrace
The Coterie ties local history to the surrounding area. Together, the two towers form a monochromatic motif that is reminiscent of Brisbane's skyscrapers and The Valley's streetscape.
The red brick and glass façade nods to The Valley's past and the site's origins as a bakery.
The Coterie Apartments is located at 365 St Pauls Terrace.
The Terrace on Gregory
This apartment complex is ideally located near Brisbane's entertainment district and is just a short stroll from all the Valley has to offer.
Just across the road from the Royal International Convention Centre, the building is located beside the Brisbane (RNA) Showgrounds on historic Gregory Terrace. The Royal Brisbane Hospital (500m) can be walked to from the building.
The Terrace on Gregory is a practical choice for inner-city living.
Utopia Space Apartments
This is the most decadent new lifestyle address in Brisbane – a place where you can live, breathe, socialize, experience and enjoy.
You're sure to find something unexpected around every corner and indulgence around every bend. It's all here, in the burgeoning capital of Queensland and Australia's scenic eastern seaboard, Brisbane.
Utopia Space Apartments is situated at 275 Wickham St opposite the Fortitude Valley Post Office and Wickham Hotel.
The Miro Apartments
In Fortitude Valley, near the James Street precinct, the Miro Apartments are located in one of Queensland's most eclectic and culturally rich districts.
There are a variety of restaurants, cafes, and bars in Fortitude Valley, as well as many entertainment options. Visitors will enjoy the stylish galleries, theatre, and music scene in Fortitude Valley, which provides a cultural haven for holidaymakers.
Just moments from the Fortitude Valley Mall and the glamorous James Street precinct, The Miro Apartments offers major public transport stops just a short step away.
The building is located at 41 Robertson St in Fortitude Valley.
M&A Apartments Close to James Street Precinct
It is only a few minutes from Fortitude Valley's bustling James Street Precinct, where there are many cafes, restaurants, and boutique shops. Providing a stylish location, excellent service, and friendly staff, M&A Apartments provide a comfortable and relaxing stay.
The complex is located at McLachlan Street and Ann Street, Fortitude Valley, so its name is appropriately named.
Central Brunswick Apartment Hotel
A short walk away from fabulous shopping and sophisticated restaurants in Fortitude Valley. You will also find the renowned Story Bridge, award-winning coffee roasters, and, of course, the vibrant nightlife nearby.
You can experience the best that Brisbane has to offer from the Central Brunswick Apartment Hotel.
Located at 455 Brunswick St, close to everything.
Bell's Square Apartment Complex, Anderson St
The residential complex at Bell's Square lies on the edge of the city. Entertainment and cultural hubs are close by, as well as schools, hospitals, Valley Station, and even the City.
Several modes of transportation are available from the complex, including buses, trains and the Airport Tunnel. Within walking distance are the Brisbane Showgrounds, King Street and the Royal International Convention Centre.
To visit Bell's Square Apartment Complex enter via Water St then make your way to 50 Anderson St.
Brooklyn on Brookes Apartments
These apartments are adjacent to Emporium in Fortitude Valley. Fortitude Valley's Brooklyn on Brookes, a new standard in contemporary urban living in inner Brisbane, sets the standard for inner-city living.
The facilities are unmatched. Get to live on a boulevard with lush gardens and a subtropical climate. In addition to adding to the beauty of the Valley neighbourhood, Brooklyn on Brookes offers a subtropical boulevard and lush gardens.
Also included in the project will be best-practice environmental innovations like rainwater harvesting and energy management.
Brooklyn on Brookes Apartments, 128 Brookes St.
Broadway on Ann – Corner of Ann St and Commercial Road
This 15-story luxury tower features 247 one and two-bedroom apartments. In addition, an underground parking garage and 821 square meters of retail space.
Internationally renowned architects created this building with modern design. They pay homage to New York's well-known Broadway theatre district and one of the most famous streets in Brisbane.
It will become a striking and welcoming entrance to Fortitude Valley from Newstead, Hamilton and the Gold Coast.
The Broadway on Ann apartments is situated on the corner of Ann St and Commercial Road.