All the Banks in Fortitude Valley
The banks in Fortitude Valley are a mixture of old and new. Most of the well-established branches are located on Brunswick Street near Valley Metro.
Fortitude Valley residents have access to banking services from all these banks. They offer savings accounts, loans, mortgages, credit cards, and other needed services for people who live in this area.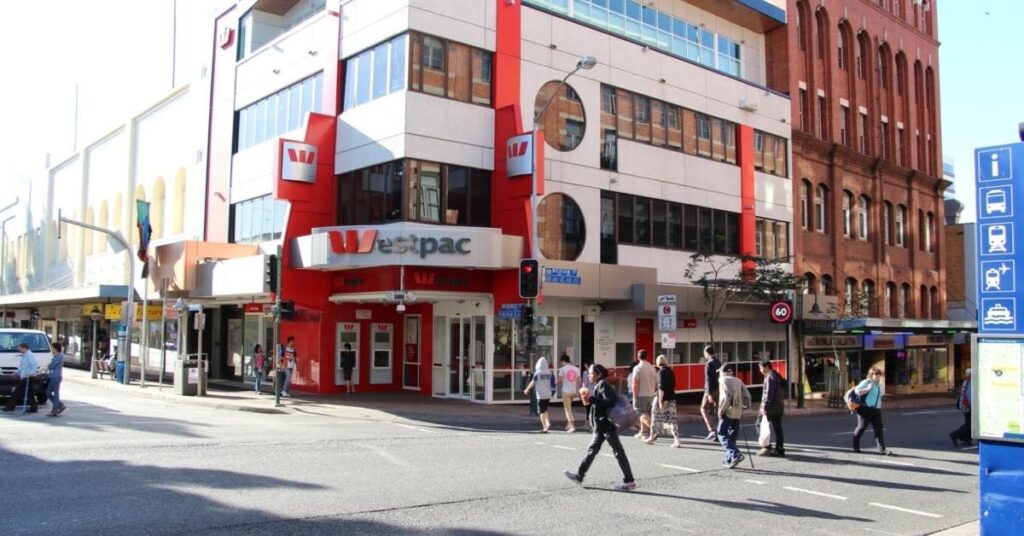 The banks in Fortitude Valley provide many benefits to the people and businesses who reside there. So they are a significant part of the economy in the Valley.
Local Branches
Here is a list of the main bank branches located in Fortitude Valley.
Westpac Branch Fortitude Valley
On the corner of Brunswick Street and Wickham St., One of the most prominent banks when looking across from the Brunswick Street Mall. See more details on the Westpac website www.westpac.com.au
National Australia Bank Branch (NAB) Fortitude Valley
Located on the left when entering the Valley Metro Shopping Centre from Brunswick Street. For banking and financial services information, see the NAB online at www.nab.com.au
The next couple of branches are located further away from the Valley heart down to James Street and beyond.
Commonwealth Bank (CBA) Fortitude Valley Branch
The CBA is another bank that has moved from the Valley heart. You will need to head down closer to James Street. You will find the branch at the McLachlan and Ann Apartment Tower ground level.
The CBA website will provide more details www.commbank.com.au
Bank of Queensland (BOQ)
The Bank of Queensland is no longer located in the McWhirters building. The nearest location is Shop 3, Ground Floor, 100 Skyring Terrace, Newstead. You can find more information online on the BOQ website www.boq.com.au.
Other Bank Branches Close By in the Brisbane Central Business District
Fortunately, Fortitude Valley borders the Brisbane central business district, so it's not far to go if your bank isn't listed above. You'll be able to find other banks like the following.
Bendigo Bank
Bankwest
Heritage Bank
MOVE Bank
HSBC Bank Australia
Rabobank Brisbane
Suncorp Bank
St. George
ANZ
What is a Bank, and Why You Need It?
Banks are financial institutions that provide banking, investment, and other financial services.
A bank's primary function is to take in money from customers and provide them with loans for the things they need. The banks must be able to track everything that happens with their money to achieve this. This means they have a lot of information about you, from your income to your credit score.
Banks also provide other services like checking accounts, savings accounts, CDs (certificates of deposit), wire transfers, mortgages and student loans. These are all ways for people or businesses to use their money differently.
How to Start the Process of Opening a Bank Account
Opening a bank account is a process that takes time and patience. Before opening an account, you need to know the requirements to ensure that your application is accepted.
Opening a bank account starts with filling out an application form. This form will ask for your personal information, such as your name, address and contact number.
You will also have to provide your ID or passport and proof of residence, such as utility bills or any other document that confirms where you live.
The next step is to give information on the type of account you would like to open and how much money you would like to transfer into the account.
Everything you need to know about Bank Transfers & Deposits
A bank transfer is the electronic transfer of money from one bank account to another. A wire transfer usually does it. A wire transfer is a method of transferring funds electronically from one country to another, often for large sums.
A bank transfer has a lower fee than wire transfers, and there are cheaper ways to do them, such as using your debit card at an ATM or using the internet or phone banking. They can also be done in person at the bank branch. There are many benefits of doing a bank transfer rather than a wire transfer:
You will avoid paying higher fees.
It will take less time.
You won't need to provide personal information when you do it.
How to Choose the Best Bank for You
Choosing the best bank can be a difficult task. There are many options and features to consider. However, there is no such thing as the perfect bank.
The best bank for you will depend on your needs and preferences. If you are looking for a simple, low-fee account, one of the smaller banks may be best.
If you want a more competitive interest rate, one of the larger banks may better suit your needs.
What Makes a Good Bank?
Banking is a service that many people need and use. You can use many different banking practices to provide this service, but what makes a good bank?
A good bank should have an established reputation for customer service and security. They should also offer competitive pricing for their products and services.
They should also provide a wide variety of products to meet the needs of all of their customers. A good bank should have an established reputation for customer service and security.
They should also offer competitive pricing for their products and services. They should also provide a wide variety of products to meet the needs of all of their customers.
Is It Worth Banking with Smaller Banks and Building Societies?
Smaller banks and building societies are not as popular as big banks. They are often seen as a risk because of their size. However, there are many benefits to banking with smaller institutions.
There is less risk involved with these smaller institutions because they are less likely to be affected by the same risks that a big bank would be.
They usually offer better customer service and more personal attention, benefiting customers who want these things in their bank. There are benefits to banking with smaller institutions, such as better customer service and potentially lower rates.
Why Traditional Banks Are Moving to Mainly Online Banking Services
Banks are moving to mainly online banking services because of the high costs of brick-and-mortar banks. They are also looking to reduce the number of branches and instead use online banking services.
This shift is happening because of the high costs associated with brick-and-mortar banks. There is also a desire to reduce the number of branches that banks have to offer more efficient, convenient, and cost-effective banking services.
A "bank account" is an account that a bank might contribute to its clients (usually individuals) in which the client can store money for future use. It also includes the services offered by a bank branch: deposits, withdrawals, transfers, loans and other financial services.