For many people, Valley Metro is one of the first places you will encounter when you visit Fortitude Valley. When exiting Fortitude Valley Train Station after ascending the escalator and going through the gates, the food court will be the first thing you see.
Some immediately recognisable names will be in sight, including Woolworths, BWS, Starbucks, KFC, Roll'd Vietnamese and more.
However, there is more to the Valley Metro. There are shops behind the train station entrance leading to the visitors car park. To add, a line of shops as you exit onto Brunswick Street, such as the 7 Eleven and NAB bank.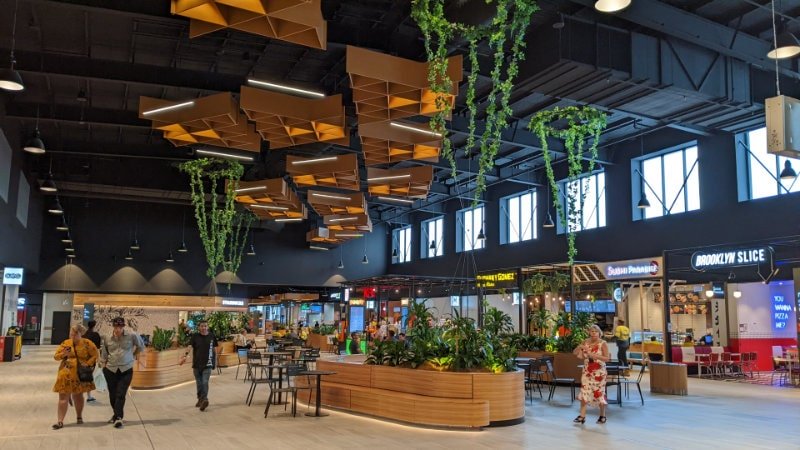 Best Selling Gym, Sports and Fitness Gear – Microfiber gym sports towels, yoga balls, muscle foam rollers, smart watch fitness trackers and more!
This article looks at what types of stores are currently at Valley Metro. Many people frequent Fortitude Valley Station, so it's handy to know what shops are around.
Valley Metro Food Court
As mentioned, the food court is the first thing you will see when exiting the train station. There is seating there for anyone wanting to eat their meal. Choose from one of the many food vendors surrounding this section.
Food Court Dining and Takeaway Meals
Several food vendors are available offering either dine-in or takeaway. Choose from various flavours, including Mexican, Vietnamese, Japanese, Chinese and more.
Guzman Y Gomez (GYG)
Guzman Y Gomez is primarily known for its delicious Mexican food. GYG specialises in Mexican style dishes like burritos, nachos, tacos and other Mexican-inspired things to eat. They also sell quesadillas, salads and drinks with an emphasis on Mexican culture.
Guzman Y Gomez puts a lot of care into sourcing and preparing their ingredients. The best flavours are achieved using traditional Mexican cooking techniques. Simple cuts of quality meats are cooked over high heat, sealing its natural juices for full flavour throughout, real Mexican taste in every bite.
KFC
In case you are not from planet earth. KFC is one of the most popular fast-food restaurants globally and world-famous for its chicken! They offer a wide variety of food items from chicken to salads.
They are also famous for their iconic gravy. The Colonel knows how to fry up some good bird from their signature Original Recipe, Extra Crispy and Kentucky Grilled Chicken. KFC has many options for all eaters, including low-fat dishes made with extra-lean white meat chicken.
KFC also strives to make some of its food healthier by providing lower-calorie menu items. And they are not afraid to tell you about it. You can find this information on their website or menu boards in their restaurants.
The secret to their success is their world-renowned 11 secret herbs and spices.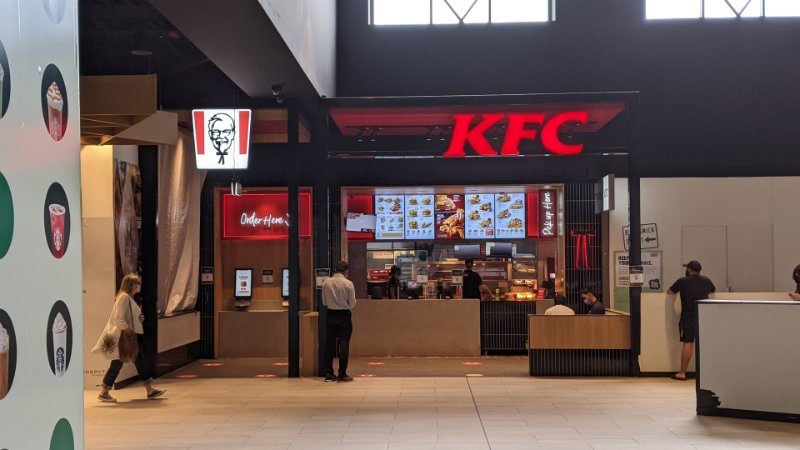 Sushi Paradise
Take the time to visit Sushi Paradise. They offer a wide variety of dishes, including sushi and authentic Japanese cuisines such as katsudon, yakisoba, teriyaki chicken and udon.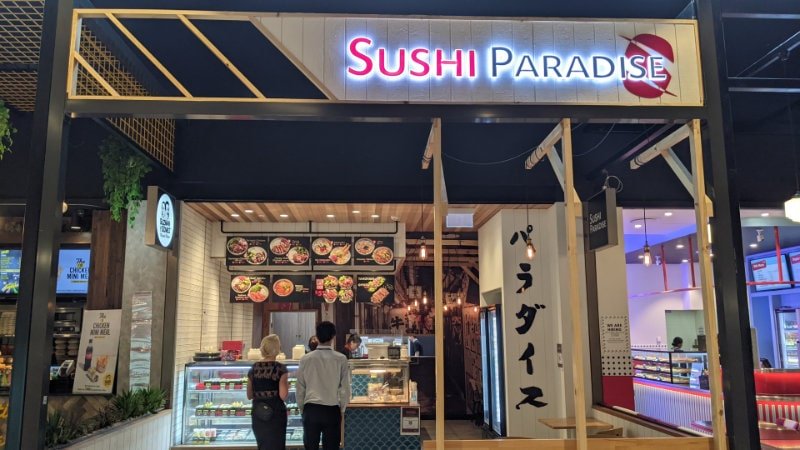 The emphasis on the seasonality of ingredients characterises Japanese food. There is minimal use of meat and fish, grains as the primary source of carbohydrates. There is a preference for lighter, more digestible dishes.
Japanese culinary experience has become popular in the Valley. Restaurants are popping up all over, creating an enjoyable dining experience that gives variety to run-of-the-mill cuisines.
It's not just sushi expanding into the mainstream. Many other Japanese dishes are also becoming extremely popular. Pop into Sushi Paradise to give your taste buds a pleasant surprise!
Brooklyn Slice
There is no mistaking. Brooklyn Slice offers delicious pizzas and other Italian treats made using seasonal ingredients at a reasonable price.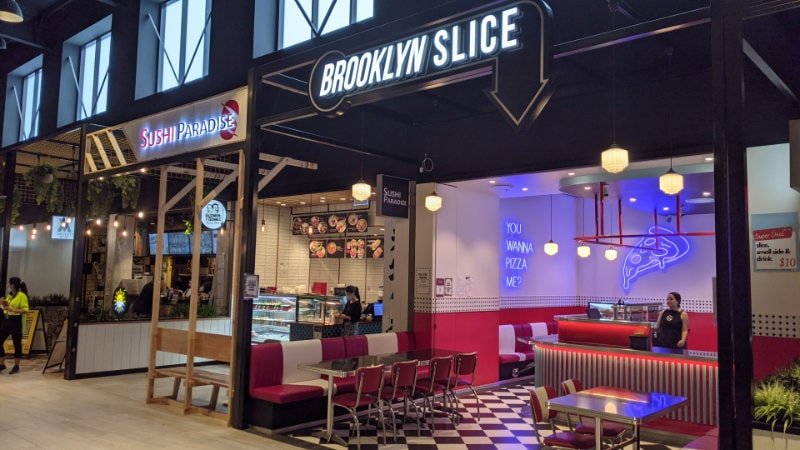 Choose from the Brooklyn self-branded pizza with pizza sauce, meatballs, mushrooms, pepperoni, mozzarella cheese. Popular favourites like BBQ Chicken, Meatlovers, Hawaiian, Pepperoni, Supreme, Peri Chicken and Vege.
Sides include fries, garlic bread, mozzarella sticks, mac and cheese balls.
Of course, there is a large selection of drinks as well.
Roll'd Vietnamese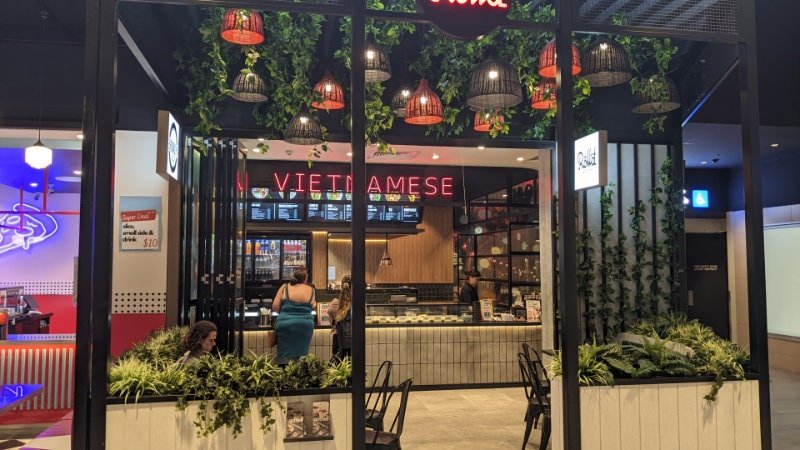 Brisbane is the place to go for succulent, authentic Vietnamese dishes. Forget fast-food chains. Go to the Roll'd restaurant for a fresh, satisfying meal.
Starbucks For Your Coffee Fix
Starbucks is well-known for its range of blonde, medium and dark roast coffees. Additionally, a selection of beverages such as hot tea and chocolate, iced tea and more.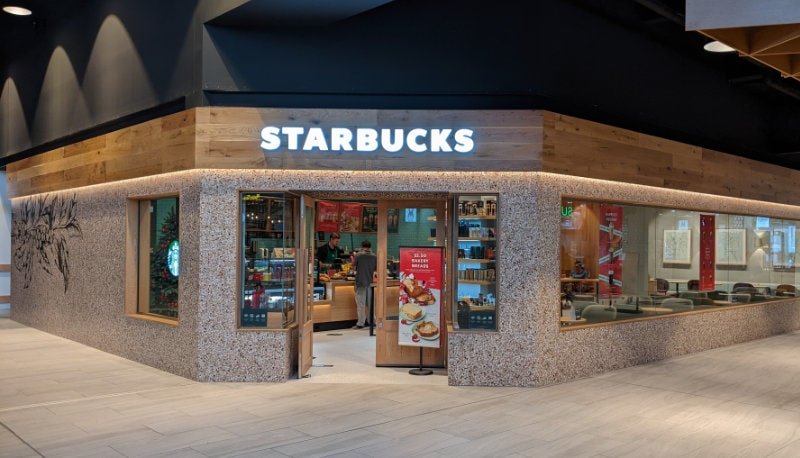 Valley visitors also love good food! At Starbucks, they source only the best and freshest ingredients. If you're looking for delicious food to go with your favourite drink, Starbucks will be able to provide something worth your while.
They have all sorts of food for you to snack on at any time. From sandwiches to pastries, there's something for everybody.
Jackpot Express
A delicious menu awaits you at Jackpot Express. Choose from various dishes, including sizzling black pepper, chicken wings in Peking sauce, spicy beef brisket hot pot, Sichuan pork belly, steamed dim sim, vegetarian spring rolls, and much more.
They offer a contactless takeaway service to order your meal efficiently and without delay.
Boost Juice
Smoothies are the perfect way to get your daily dose of fruits and vegetables. They are packed with vitamins, minerals, and antioxidants. But did you know that smoothies can also help you lose weight?
Boost Juice is driving one of the most popular healthy lifestyle trends making smoothies and juices for people on the go. Take your health into your own hands by allowing them to blend up nutrient-dense ingredients to create a truly delicious drink.
Best Deals on Electronic Products – Great savings on a variety of electronic gear!
Gong cha
Tea is life. Tea is a conversation with oneself. It's the satisfying warm feeling when you take that first sip of tea in the morning.
It's a delight that transforms your day into something special, just like how it does for me. There's nothing more calming in this world than sipping on an honest cup of tea in the evening after a long day.
Awaken your senses with the rich scent of tea. Let its serene beauty permeate your life. Anything is possible in a life enriched by the compassionate art of tea.
Espresso Laneway
Espresso Laneway is your one-stop-shop for coffee, snacks, or food for busy people on the go. They are ready to serve you their award-winning espresso blend, Bellissimo coffee.
Their shop has an isle position conveniently located behind the train station entrance on your way through to the car parking area.
Supermarkets
Woolworths Valley Metro
We all love to eat, and we all enjoy the convenience of shopping for groceries in a supermarket. But when it comes to cooking, not everyone has the time or expertise to prepare a satisfying meal.
As well as the regular grocery items, Woolies Valley Metro has a range of pre-prepared meals ready to go. Very convenient for individuals to pick up after work on the way through to the train station. Possibly a quick meal to have for lunch back at the office.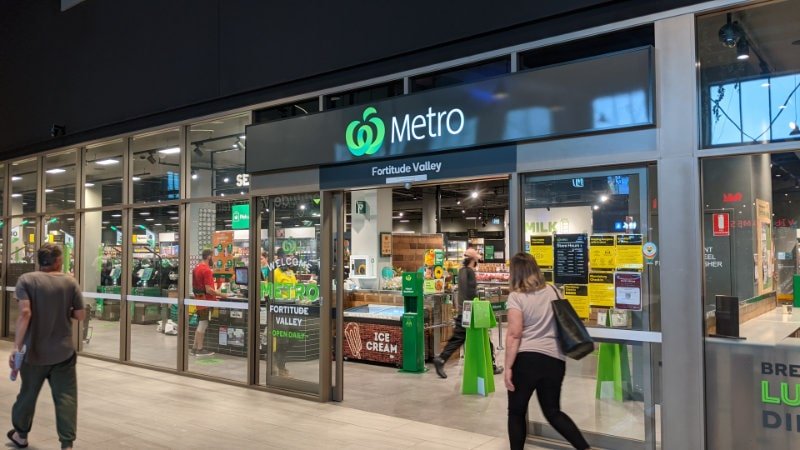 Woolies never stop looking for ways to improve their food range. Their goal is to create delicious and healthy products with extensive knowledge of new styles and trends in the food industry.
When you see the Woolworths green logo on the pack, you can be assured of the quality of their food range. They have a team of experts, chefs and nutritionists who bring their food products to you.
Sunlit Asian Grocer
This Asian grocery store sells ingredients for various Asian cuisines such as Chinese, Japanese, Korean, Thai, and more. They typically offer a wide variety of fresh produce, groceries, frozen foods and snacks.
Sunlit is a large Asian grocery retailer in Queensland. They aim to fulfil their customer's needs and exceed expectations in providing a great shopping experience.
Lifestyle benefits are associated with various Asian foods, making it worthwhile to shop here.
BWS Valley Metro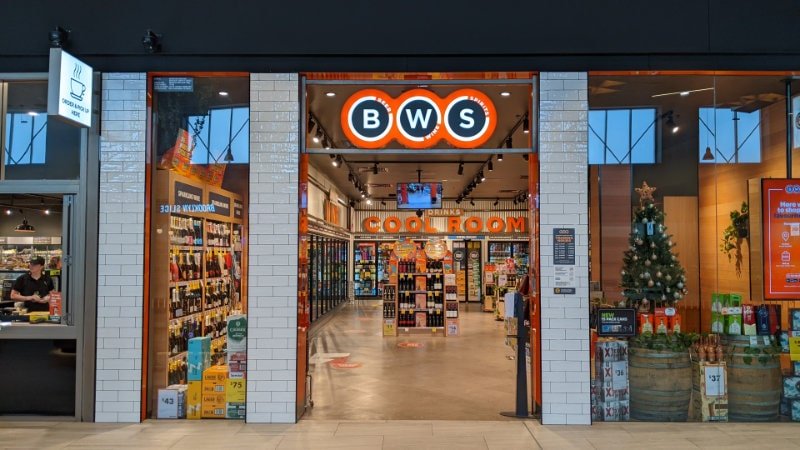 BWS is located next to Woolies. Conveniently located near the Fortitude Valley Train Station. Perfect for picking up a bottle of wine or six-pack of beer before heading home for the evening. They stock a wide range of refreshing alcoholic beverages for all preferences.
Other Stores, Services and Facilities
National Australia Bank (NAB)
The National Australia Bank is one of Australia's largest retail banks. It provides a range of banking services, including credit cards, mortgages, deposits, savings accounts and transaction accounts.
Banking is a fundamental necessity in today's world. People use banks to pay bills, send money, and store their cash. As a result, the market for banking services has grown substantially. The need for banking services has increased due to mobile banking and financial technology. Visit the Valley Metro NAB for all your banking needs.
Bou's for Men
You can expect to get your haircut, shave, and other facial care needs to be handled by professionals at this barbershop.
However, they also have some excellent services like a comprehensive style overhaul. If you want to update your overall presentation, Bou's For Men is perfect for you!
Bou's for Men provide a range of styles for any occasion, including weddings.
Valley Metro News
Are you looking for a newsagent in the Valley? Valley Metro News provides you with the means to buy a ticket for the most popular lotto draws. You can also rely on them for your gift card and wrapping needs.
Fortitude Valley Train Station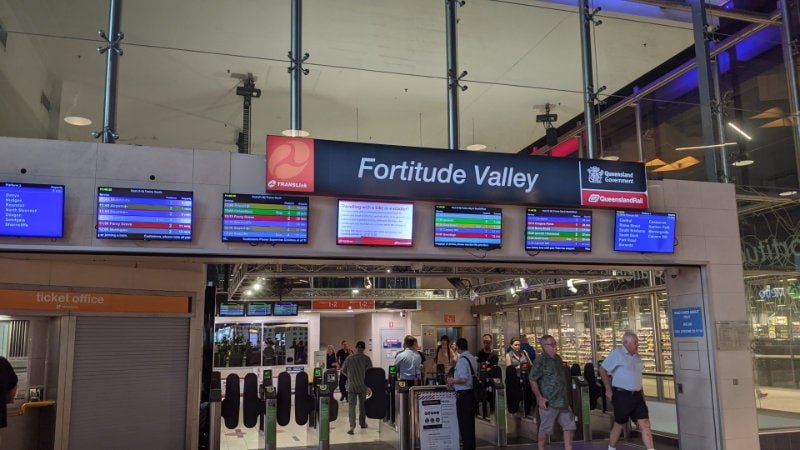 The Fortitude Valley Train Station is a popular entry point to accessing the Valley.
Use the journey planner on the Translink website to plan your trip in and out of the Valley.
Valley Metro Parking
The Valley Metro Car Park is the closest car park to the Valley Metro shopping centre. It's perfect for shoppers who want to get more out of their day by parking close to the action.
Open 24 hours, seven days a week, and the maximum vehicle height is 2.2 meters.
Public Toilets
The public toilets are located to the left of the train station entrance when headed to catch the train. Alternatively, they are located directly to the right when exiting the automatic gates.
Healthcare Products and Services
Terry White Chemmart Valley Metro
Terry White Chemmart is one of Australia's largest pharmacies and is virtually a household name. When it comes to the health and wellbeing of you or your family, it is essential to know you are supplied with the best medicinal products.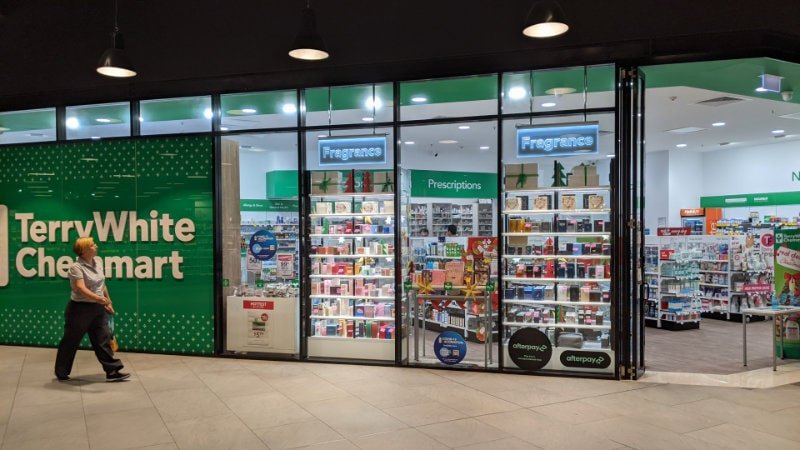 Pharmacies offer a range of pharmaceutical products and expert health advice to improve your health and wellbeing. At Terry White Chemmart you can be confident you will receive the best quality products, service and experience.
Always speak to a pharmacist to receive expert health advice.
My Health
Looking for the best medical centre in the Valley. Myhealth Fortitude Valley is located conveniently in the Valley Metro mall. Go there to get quality care provided by friendly staff with knowledgeable leath professionals.
Myhealth Fortitude Valley is focused on ensuring your health comes first.
All new patients are welcome and you can make an appointment with one of their caring family doctors online or over the phone.
QML Pathology
QML Pathology is a leading clinical laboratory and pathology services provider across Australia.
With the broadest range of pathology services and collection centres, QML Pathology offers Queensland doctors and patients a wide variety of pathology tests.
Where can find more information about Valley Metro?
See the Valley Metro website for details about trading hours, shop directory, shopping centre maps, lease enquiries and more.