What is a Bum Bag?
A bum bag is a small, lightweight bag worn around the waist or hips. It is typically worn on the front of the body and can be used to carry items like money, keys, and a phone. It may also be called a fanny pack or waist pack.
Bum bags are often used by hikers, runners, cyclists, and other people who want to carry essentials while participating in an active sport. They are also popular among travellers who want to take their cash, passport, phone, and other essential items.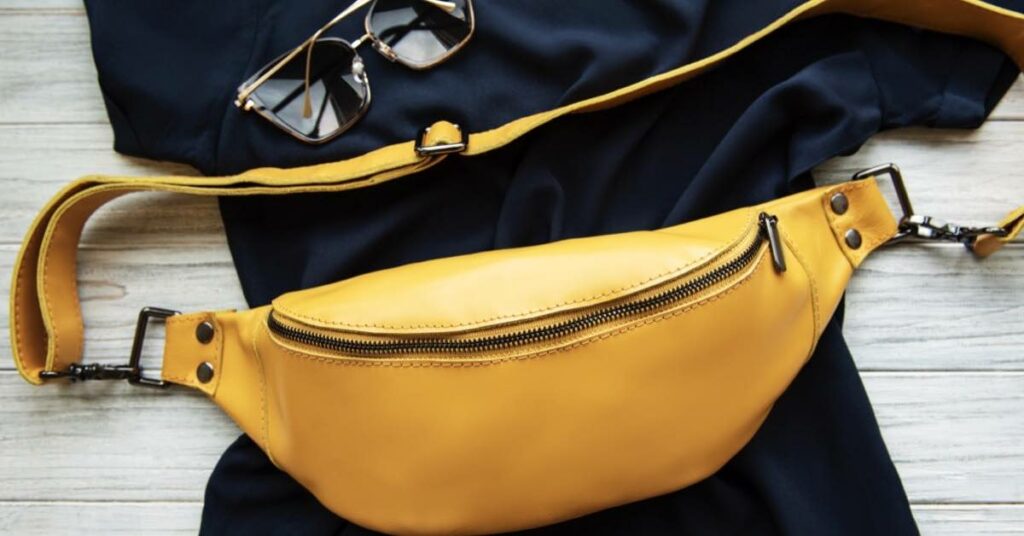 A bum bag can be worn on the front or the back, depending on why you need it. It can also be used as a money belt if you are travelling abroad and want to avoid carrying your passport in your pocket or purse while out exploring the city.
Bum Bag Essentials: What You Need to Consider When Choosing One
Hikers and backpackers traditionally use them to keep essential items close to the body, making them more accessible.
The following are some of the things you should consider when choosing a bum bag:
What you need to carry in the pack: Do you need to take water? A map? A compass?
What kind of activities will you do with your bag: Are you backpacking or just going for a hike?
How many pockets do you want on your pack: You may wish to have more pockets if it's easier to organize your stuff.
Important Items You Should Have Packed at All Times
The idea of a bum bag is not new, but the way people use them is constantly evolving. The essentials you carry in your belt bag can vary depending on your activity.
Some of the items that are useful for everyday use include:
A wallet or purse
Keys
Phone
A pen and paper (for quick notes)
A water bottle or coffee mug (if you are going to be out all day)
Chapstick and lip balm (for dry lips)
Sunglasses (to protect your eyes from UV rays)
If you are looking for a great deal on a fanny pack, check out this website. They have all sorts of different styles and colours to choose from. You can find one that suits your taste and needs.
---
RECOMMENDED PRODUCTS
JanSport Fifth Ave Cross-Body Waist Pack
This bag is perfect for everything you need when you're on the go. The adjustable belt can be worn around your waist or as a sling in your back. It comes in a selection of colourful prints and colourways.
Eastpak Springer Bum Bag – 23 cm
It has enough space for sunglasses, keys, passports, and travel documents. Keeping things safe and secure is made easy with the zippered closure in the main compartment. You can adjust the waist belt to fit your waist. An ideal place to stash your cards and cash, the back pocket is secure.
This running pack offers two expandable pockets, one large and one small, to protect your phone from scratches. With two pockets, it is easier than ever to handle your phone. Exceptionally comfortable running belt. The belt does not bounce.
---
A backpack is an essential item for backpacking. But it is also necessary to have the right essentials inside the bag. For example, having a first aid kit, snacks, water bottles, and extra clothes can be lifesavers in an emergency when you're out in the bush.
Tips and Tricks to Keep Your Bum Bag Sturdy and Secure
The best way to carry a fanny pack is by using the waist strap. The waist strap should be worn on the hips, not the stomach. This will keep your fanny pack sturdy and secure.
The Guide to the Bum Bag …Hipster Style!
The bum bag is a small bag that you can attach to your belt. Travellers and people often use it on long hikes or treks.
People usually carry their necessities inside, such as passports, money, phone, water, snacks and other essential items they need while exploring the world.
Why You Need a Hipster's Essential Accessory
A hipster's essential accessory is not always a pair of thick-rimmed glasses and a plaid shirt. It can be a bag, especially if it's from the latest fashion season.
There are many reasons why you should invest in this trendy bag:
It will help you stand out from the crowd and make you look unique.
It will add personality to your outfit, so people will notice your style and want to know more about what you're wearing.
It's perfect for those who love travelling because it has enough space for all of your belongings and is easy to carry around with you on the go.
This bag is an investment that will last for years to come because of its quality material and design.
The Different Types of Hip Bags
The different types of hip bags are categorized based on their usage and the materials they are made of.
Backpacks: These bags are designed to be carried on the back and vary in size. They are mainly used for outdoor activities like hiking or camping.
Messenger Bags: These bags have a strap that goes over one shoulder and can be carried on one hand. They are mainly used by office workers who need to bring laptops, documents, and other items while commuting to work or working at a desk.
Shoulder Bags: These bags usually have two straps, one going over each shoulder. They are mainly used for carrying light items like groceries or personal belongings like wallets, keys, sunglasses etc.
Crossbody Bags: These bags have
---
Bohemian Hippie Crossbody Bag
Hobo Sling Bag Handmade Messenger Shoulder Bag
A stylish, spacious and durable paisley bag is suitable for all-day use.
There is an inside zippered pocket and a compartment with a zippered closure.
Cotton fabric is light and durable and is made of cotton.
With its wide shoulder strap, which can be folded, this bag is convenient.
Youthful vitality is highlighted by the unique long belt design.
---
What Brands Make the Best Bags?
Bags are an essential part of our lives. We use them to carry our belongings, and they're also a fashion statement. The best bags are the ones that can hold all of your belongings, keep them safe and secure, and look good while doing it.
Some people might think that there isn't much difference between the best brands for bum bags, but each has many distinctions. Brands can vary in terms of how many styles and colours they offer.
The quality of some materials is better than others. In comparison, the quality of some brands is reflected in their price. There is no one best brand for bum bags because everyone has different needs for their bag needs.
Different Ways You Can Wear Your Bum Bag or Hip Bag
Many people will be wearing their bags on their hips. The advantage of this is that it is easy to access the bag's contents, and it also makes it easier to move around while wearing a heavy load.
However, the disadvantage is that it can make you look like a tourist or a hiker, which may not be appropriate for some occasions.
The second way to wear your bum bag is by looping it over one shoulder to hang in front of you and balance your weight. This position is best for those carrying heavy loads because they can distribute their weight more evenly across both shoulders.
However, there are some disadvantages as well because when you reach into
Why A Great Bum Bag Will Make Life Easier
A great bum bag will make life easier. It will give you a place to store all the items you need to have with you, and it will also help you not to lose them.
The first thing you should do is decide what type of bag would be best for your needs. You want something comfortable and easy to wear, so it doesn't become an annoyance when you are out and about.
There are some things, like a phone, that you might want to carry in your pocket or handbag, but other items can go into your fanny pack. Things like cash, keys, sunglasses or sun cream are all things that could be stored in a bum bag.
It would help if you also considered what size of bag would be best. A great pouch will make life easier. They are practical and can be used for a variety of purposes.
A bum bag is an often overlooked accessory that can be very useful. It's perfect for carrying around your essentials while you're on the go, and they come in various shapes, sizes, and colours.
There are many different designs to choose from, so it's important to know what you need before buying one.