What are Yoga Products and What Do They Do for a Yogi
Yoga is an ancient body, mind and spiritual discipline that has been practised for thousands of years. You can use yoga products to make yoga more accessible, safe, or enjoyable.
Yoga mats are a staple for any yoga practitioner. Mats provide a non-slip surface and cushion the knees and joints. A mat strap is another tool to carry your mat from class to class or from home to the studio.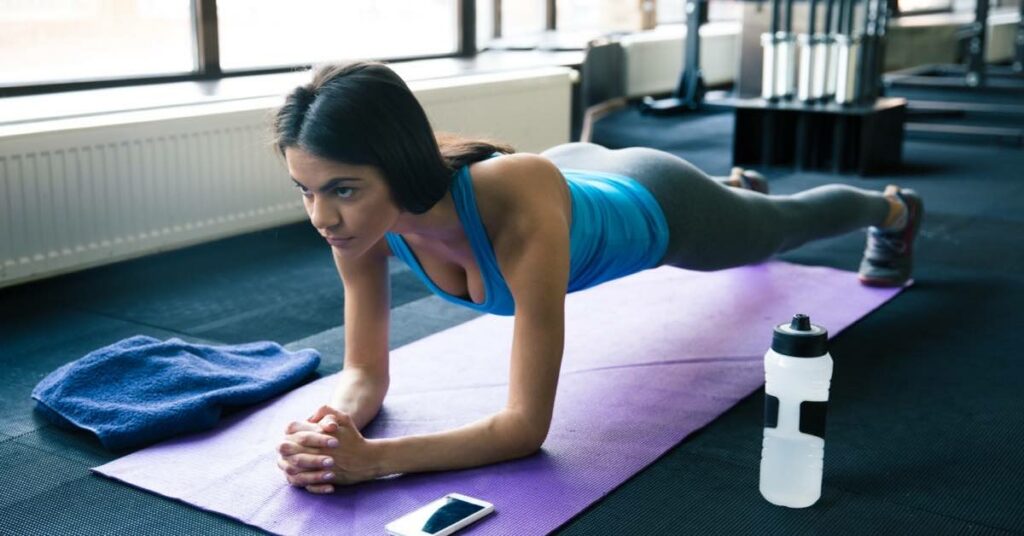 You can also use a strap if you prefer not to roll your mat up when you're finished with it, which helps keep it cleaner by preventing sweat from soaking into the fabric.
Many other yoga products and accessories are available for purchase, including blocks, straps for inversions, bolsters for seated poses, and blocks for standing poses.
How to Choose the Right Yoga Mat and What to Consider When Buying One
A yoga mat is an essential tool for practitioners of this exercise. Yoga mats are typically made of either foam or rubber and come in various thicknesses.
This section will discuss the benefits and drawbacks of each yoga mat and provide some tips for buying the right one for you.
What is a Yoga Mat?
A yoga mat is a rectangular material that provides cushioning between your body and the floor or ground when practising yoga. It also helps to keep you from slipping during certain poses, such as the downward dog.
The most common types are made from either foam or rubber and come in various thicknesses, depending on your needs.
All-Purpose 10mm Thick Non-Slip Exercise Mat
High-Density Anti-Tear Pilates Mat with Carrying Strap for Yoga Pilates and Gymnastics
183cm x 66cm x 1cm – 4 Colours
How to Choose the Right Yoga Socks and Other Footwear
Yoga socks are specially designed to provide comfort and support for all yoga postures. There are many different yoga socks on the market, so it can be hard to choose the right pair.
Here is a list of things to consider when deciding which type of yoga socks will suit you best:
Material: Yoga socks come in many different materials, including cotton, wool and synthetic materials.
Length: Longer yoga socks will cover your entire foot, while shorter ones may only cover your ankle or toes.
Thickness: Some people prefer thin yoga socks, while others like thick ones that provide extra cushioning and warmth.
Style: There are many different types of yoga socks, such as plain, with designs, or printed.
Price: The price of a yoga sock will vary depending on the type and thickness.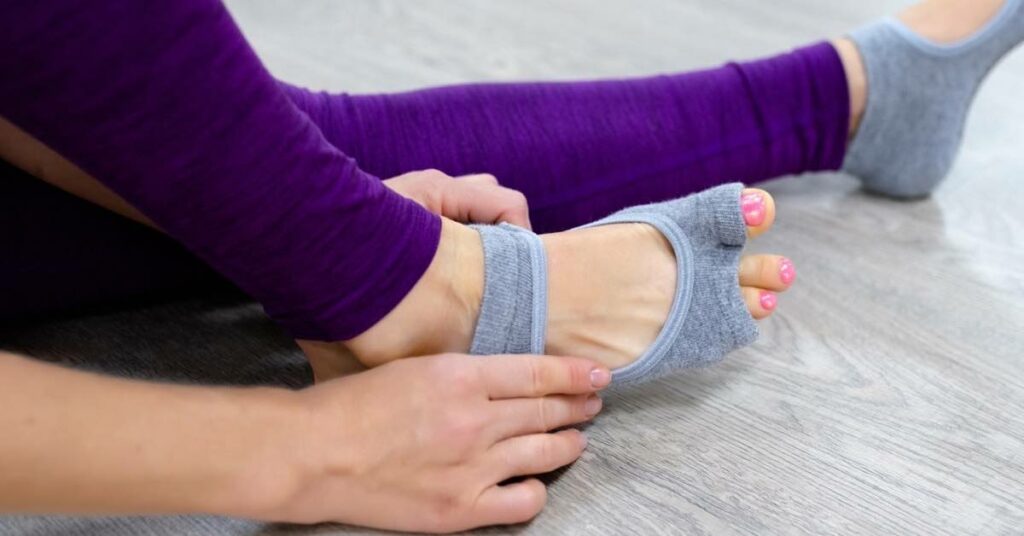 A high-quality cotton (95%) and elastane (5%) blend gives these full-toe yoga socks added breathability and effective grip on the floor. In order to provide extra grip when practising, the underside of the socks is covered with small rubber dots.
3 x Pairs
Full Toe Ankle Grip Socks
Size 6-10
3X Pairs Non Slip Yoga Pilates Socks for Martial Arts Fitness Dance Barre Anti-Slip/Non-Slip, Full Toe Ankle Grip Socks Size 6-10
What is Yoga Clothing? And What Should You Consider When Choosing it?
Yoga is an ancient practice that has been around for centuries. It is a spiritual and physical exercise that aims to improve the body's flexibility, strength, and balance.
There are many different types of yoga clothing to choose from, but it can be challenging to know what will work best for you. Yoga clothing can vary in price, style, and material.
There are different yoga clothing styles that you can choose from, such as leggings or a tunic top with pants or shorts.
You should also consider the material of your yoga clothes as some may not be suitable for particular temperatures and climates.
Different Kinds of Yoga Mats out There
There are many different kinds of yoga products out there. Some are eco-friendly, some have more cushioning, some have a better grip and so on.
The primary purpose of a yoga mat is to provide comfort and grip while doing your yoga practice.
Yoga mats come in various types. Some are made from natural materials like rubber or jute, while others are made with synthetic materials like PVC or PETE (Polyethylene Terephthalate).
The most popular type of yoga mat is the eco-friendly mat made from natural rubber or jute. These mats are not only environmentally friendly but also very durable and long-lasting.
You can use them for years without any signs of wear and tear. The benefits of these mats include that they do not emit any harmful chemicals into the atmosphere.
They have antibacterial properties and are soft on the body. The type of yoga mat you decide to get will depend on your personal preference and what you need it.
There are various yoga mats, each with its benefits and drawbacks. The most popular types of mats include the following:
Eco-Friendly Yoga Mat
Natural Rubber Yoga Mat
Jute Yoga Mat
PVC or PETE (Polyethylene Terephthalate) Yoga Mat
The most popular type of yoga mat is the eco-friendly mat. These mats are made from natural rubber or jute, and you can use them for years without any signs of wear and tear.
A Look at Yoga Products and Their Benefits
Yoga products come in a wide variety of styles, so you have to know what you're buying. Yoga mats, for instance, come in various thicknesses and lengths.
Mats can also have different textures to suit your needs. Some people prefer textured mats, while others prefer smooth ones. The same goes for other types of yoga products like blocks or straps; they come in various shapes and sizes, so you can find one that suits your needs perfectly.
Some other things you should keep in mind when shopping for yoga gear are:
What type of materials does it use?
Where is it made?
Is the company eco-friendly?
Does the company offer a warranty?
How long will it last you?
Yoga mats and yoga gear are typically made from natural fibres or synthetic materials. Natural fibres are, of course, those that are plant-based rather than petroleum-based.
Yoga Class with the Top Ten Yoga Apparel Brands
Yoga has been around for thousands of years and is practised by millions worldwide. The discipline involves a series of poses, or asanas, that stretch and strengthens your muscles. Yoga is also great for mental health as it helps to improve focus and concentration.
The best yoga clothes brands are Lululemon, Athleta, Nike, Under Armour, Adidas, etc.
These brands offer the best clothing for yoga because they are designed to be lightweight and breathable, making them perfect for a yoga class's sweaty environment.
4 Tips on How to Choose the Best Yoga Mat For You
Choosing the right yoga mat can be a confusing task. There are so many different mats to choose from, and they all have their benefits and drawbacks.
This post will go through some of the most common types of mats and how to choose the best mat for you.
Type of Yoga Practice: If you practice hot yoga or Bikram yoga, you will want a mat made from a material that is more resistant to heat and sweat. If you are practising a more traditional type of yoga, then you may want to consider an eco-friendly mat made from natural materials like rubber or jute.
Budget: The average price for a good quality mat is around $30-$40. You can find mats in this price range of good quality or spend $100+ for a luxury mat.
Comfort: If you purchase a mat for hot yoga, the more densely woven the material is, the more comfortable it will feel.
Types of Mat Foam: There are many different types of foam mats on the market in various densities and thicknesses, with each type designed for a specific use.
Different Kinds of Yoga Mats & Which One Is The Best For You?
Yoga mats are an essential part of practising yoga. They provide comfort and support for our bodies during the practice.
Many different kinds of yoga mats are available in the market today. One of the most popular types is a sticky mat. The sticky mat is made from PVC or TPE, which helps to make it more durable and also helps to keep it from slipping on a slippery floor.
The downside of this type of yoga mat is that it can be challenging to clean and tends to smell bad over time.
Another type of yoga mat is a cotton or natural fibre mat, which can be expensive and provide a better grip than a PVC or TPE mat. This is because they have minor slippage on the floor and tend to be made with more resistant materials to staining and odours.
The Different Kinds of Yoga Towels and Why They Matter
The discipline of yoga is about connecting to the self and finding peace and tranquillity.
Many different types of yoga towels can be used for the practice. Some of these include microfiber, cotton, bamboo, and more. Each type has its own benefits and drawbacks that should be considered when deciding which towel to use in a yogi's studio.
Different Types of Yoga Towels:
Microfiber: Microfiber towels are made from synthetic materials that are very thin, lightweight, absorbent and quick to dry. These towels are usually less expensive than other types but offer a lower quality experience due to their lack of durability
Cotton: Cotton towels are made from natural cotton fibres that take longer to dry. They are more durable and thicker than the other types of towels. Cotton is also more absorbent than microfiber, making it an excellent choice for those who practice hot yoga
Bamboo: Bamboo, or Jute, is a fibre used for centuries in Asian countries for dishcloths.
The yoga mat towel is designed with four corner pockets on the backside, which help secure the towel to the mat and ensure that it will not shift during use.
Pockets keep the towel positioned and prevent the towel from bunching up when used as a yoga towel
PERFECT FOR HOT YOGA: Towel absorbs twice as much as cotton and dries in half the time, so you don't have to worry about slipping when you use it
Which One Is The Best Yoga Mat For Men?
Yoga mats are a type of mat that is used by people who practice yoga. They are designed to provide traction and cushioning during the yoga session.
There are many different mats available on the market today, but which one is best for men? Some people like to use natural rubber because it has a lot of grips and provides good stability.
Other people prefer foam mats because they offer more cushioning and are more comfortable. The mat's thickness also plays an essential role in how well it will work for you. The thicker the mat, the more comfortable it will be to practice on your knees or do balancing poses on your hands.
Thinner mats are better for stretching as they don't have any extra bulk under your body weight that can cause them to sag. The shape of the mat is one factor to consider as well. If you have tight hamstrings, a rounded edge may be best for your practice because it will provide a larger surface area for you to work with and make it easier on your joints.